Japan experiences four distinct seasons, including very cold winters and hot and steamy summers.
Knowing what to expect at different points in the year will help you plan your Japanese getaway.
Winter in Japan typically lasts between December and February. If it's skiing and other alpine sports you're after, traveling to Northern Japan or the Sea of Japan coast during these months is a must. To enjoy a milder winter consider staying in the south.
With spring's arrival in March, Japan's weather begins to warm and the famous cherry blossoms begin to bloom. However, this is a slow and gradual process so you'll still need to carry some cold weather clothes when traveling from March to May. Light coats and sweaters can help you cope with cold snaps and chilly nights without taking up too much space in a suitcase. Note – ever consider a job in Japan teaching English? If so, check our partner site JobMonkey!
Japan enjoys summer from June to August. The season typically starts with a month or so of rain, known as tsuyu, before the weather clears. To escape the dreary weather consider holidaying on the island of Hokkaido, the only place in Japan immune to the tsuyu. Once the rainy season is over Japan's summer weather is often not much more pleasant, with the temperatures soaring as high as the humidity. You'll find the most comfortable conditions in the mountains and Hokkaido.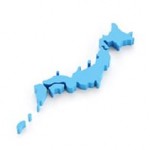 It's advisable to avoid Japan in September when typhoon season is at its peak. Wild weather along the coasts of Okinawa, Shikoku, and Kyushu can affect all of Japan. The good news is that once the typhoons clear, they leave perfect fall conditions. In October and November the weather is temperate, and the landscape is ablaze with the rich earthy colors of autumn. Just as you would in spring, it's advisable to bring light jackets and sweaters to wear on cooler fall days.