Greece Travel Guide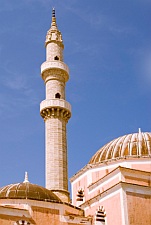 Greece, the berth of Democracy, is renowned for its sun, beaches and traditional food. It is a popular tourist destination that combines entertainment with relaxation in breathtaking scenery, both on mountainous and sea resorts.
Greece is a complex of mainland and many clusters of islands scattered in Aegean and Ionian Sea, and it is the perfect place not only for the regular tourist but also for those who seek unique places of interest that can offer them a variety of cultural challenges.
The morphology of its land allows the growth of rare plants and herbs that form the natural habitat of a great number of animal species all over Greece, thus attracting environmental tourism as well. The Greek flora is one of the richest in the world, having about 4,000 species of plants, pharmaceutical herbs included. Four-fifths of the land is mountainous, mostly on the west side of Greece, with Olympus being the highest mountain of all. In this section you'll get Greece travel insights about:
Athens, Greece
Thessalonica
The Greek Islands

Mykonos
Crete
Rhodes
Santorini
Corfu
Find out where to stay while on your Greece vacation, what to see and do – from museums and archaeological monuments to restaurants and fun activities.
The Greek people are friendly and well-natured, and their hospitable behavior dates back to Homeric times when guests used to be welcome and treated with respect and good will. Ulysses in Odyssey was welcome and honored by Alkinoos, the king of Kerkyra (Corfu for the non-Greek), when he was found shipwrecked on a coast of the island. The twelve Gods the ancient Greeks worshipped were also hospitable, and their leader, Zeus, was called 'xenios' Zeus because of his favor to foreigners, 'xenous' in Greek. The formal religion in Greece is Christian Orthodox, but there is a variety of other religions prevalent nowadays, such as Judaism, Islamism and Buddhism. As regards safety, Greece is a safe destination, even in big cities like Athens.
The climate is diverse. There are four climatic areas: The mountainous area, the northern Greece area, the Ionian Sea area and the Aegean Sea area.
The weather is hot in the summer, especially on the mainland but cooler on the islands, and cold in winter, with milder temperatures on the islands and on the southern areas. Earthquakes are usual phenomena but harmless most of the time, while winter floods and summer fires may occur occasionally due to climatic changes.
Greece is the perfect place for summer vacations on the beaches or for winter vacations on ski resorts. Another kind of tourism, eco-tourism, is on the increase, so in recent years more and more travelers choose to visit the natural environment of rural areas and enjoy nature while relaxing and educating themselves.