With the United States celebrating its independence today, it makes sense to look at the great travel destinations in our own backyard with our latest Web Wrap. It's often most affordable to travel interstate rather than venturing abroad after all! Read on to discover the local blogs and homegrown stories we've loved online in the last two weeks.
Technomadia – Cherie and Chris are living the dream as self-proclaimed technomads, a couple who works from their RV as they travel across the United States with their faithful cat Kiki. Read about the places they visit and the ways they make their nomadic lifestyle work.
SeaWorld Orlando's Newest Attraction Opens @ What a Trip! Nancy D. Brown recently visited SeaWorld Orlando to check out one of its biggest new attractions in years, Antarctica: Empire of the Penguin. Nancy describes all the features of this new icy exhibition and offers tips for making the most of your visit.
The Q Family Adventures – After traveling to Thailand last year, the Q family has decided to tighten its belt and opt for an old-fashioned road trip across America. Over the next few weeks they're traveling from their home in Georgia to Indianapolis, Niagara Falls, Toronto, New York City, and Philadelphia. They recently posted about their trip to Kentucky's Mammoth Cave National Park, and they assure us there are more virtual postcards from the road to come.
Space Acorn @ Atlas Obscura – Atlas Obscura is worth bookmarking if you want to discover a country's oddities. Kecksburg, Pennsylvania doesn't have a lot to entice tourists, except for its Space Acorn. This unusual monument was erected in honor of a UFO that locals swear crashed in the local woods way back in 1965.
Alaska TravelGram – Alaska is arguably one of the most beautiful parts of the United States. Scott McMurren is an Anchorage resident with 30 years' experience in the travel business, most of it in his home state. Log on to read his posts and listen to his podcasts about this stunning state.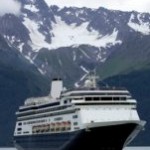 If you can pull yourself away from your barbecues and fireworks displays, make sure you share these great blogs and posts with your friends using our social networking buttons below!