We might be past Hump Day, but the weekend still feels like it's a lifetime away. You might not have a great getaway planned to escape the real world, but you can fantasize about one with these awesome travel blogs and excellent tourism articles.
A Little Story … The Origins of Chocolate and Effects of Grassroots Tourism @ A Little Adrift – In this incredible post blogger Shannon O'Donnell shares the story of her recent stay in Silico Creek, Panama. To many it's a small speck on a map, but for Shannon it represented an opportunity to learn about the indigenous culture and the cacao beans that sustain them. Her post reveals a very different side of Panama than the one that spring breakers see!
Budget Travelers Sandbox – When she left the corporate world at the turn of the century, Nancie intended to take a year-long sabbatical. She's been traveling ever since. She recounts her adventures in her blog posts, which include her weekly visual postcards on Travel Photo Thursdays.
An Adventurer's Guide to Turkey @ Maiden Voyage – Turkey's beaches might encourage you to kick back and relax, but the country also has an adventurous. This blog article profiles some of the country's best sites, including the hot springs of Pamukkale and the ruins of Ephesus.
Wandering Trader – Marcello Arrambide has travelled the world for the last four years. It's given him the chance to visit all seven continents and around 80 countries. All those adventures give him plenty to draw from when crafting his blog posts, which jump around the world showcasing its best attractions, from the Colosseum in Rome to the pier at Nantucket Island.
Tips for Visiting Thermal Pools in Iceland @ Kaleidoscope Wanderings – When the mercury dips in Iceland, a swim in its thermal pools is a great way to thaw out. This post details how to find a thermal pool near you, what to bring, and how to get the most from your visit.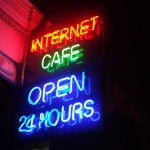 You're not the only one who deserves a mental vacation though. Remember to share the great travel resources in our latest web wrap with your friends using our social networking buttons below!