If you already own an iPhone or iPad, you probably know that you have one of the best budget travel tools on the market.
Haven't taken the plunge and purchased your iToy yet? Not to worry. Many international tourist agencies (mostly in Europe) are renting out iPhones or iPads to help you make the most of your visit (if you're heading to Paris in the near future you can rent an iPad near the Eiffel Tower). Here is a list of "must have" iPhone/iPad apps for frugal travelers. What's even better is that most of them are free!
Best Free Apps
TripAdvisor
(Free) If you rely on the TripAdvisor website for booking hotels, choosing a restaurant, etc. then you will get a lot of use out of the TripAdvisor app (which is quite a bit simpler to navigate than the site). Listings are filtered by price or neighborhood.
Priceline Hotel Negotiator
(Free) Priceline's Hotel Negotiator app will help you
find travel deals
galore. Simply enter a preferred star rating and your ideal rate and watch the search engine lock in a room that meets your criteria. The app uses GPS, which is great for finding last minute accommodations when you miss your train out of Bruges.
Mint (
Free) [caption id="attachment_4440" align="alignright" width="225" caption="Photo credit: Glenn Fleishman"]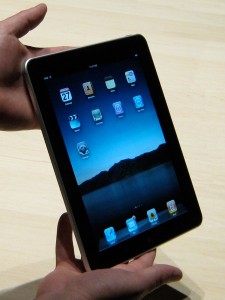 [/caption] Mint is the perfect way to track your finances while you're on the way to the airport or sipping a cappuccino at an Italian café. With a mint.com account, you are able to track multiple bank accounts (even from different banks) all on the same page. There's also a budgeting feature that allows you to set a budget for your trip and see bar graphs that track your spending as you globetrot.
Skype
(Free) As I addressed in a prior post about
how to travel inexpensively
, cell phone use abroad can get pretty spendy due to roaming charges and international call upcharges. With a Skype account, you can call for free to another Skype account, anywhere in the world. All you need is a wireless Internet connection. You can also call for extremely reduced rates from your Skype account to a land line. Now you can tell the long version of your travel tales to anyone who will listen without draining your travel budget.
Free Wifi
(Free) Need to find free Wifi so you can Skype to your heart's content? The Free Wifi app will help you locate the closest free hotspot, even if you're not online (thanks to their offline database option).
Sudoku
(Free) I know, the connection between Sudoku and budget travel may not seem obvious at first blush. Think of it this way: when you're waiting for your flight, the free Sudoko app allows you to exercise your brain instead of giving your wallet a workout in the duty free store.
Currency Pad
(Free) Trying to figure out the UDS equivalent of 12,000 Japanese Yen has never been easier than with the Currency Pad. The user-friendly interface and direct links to Wikipedia articles on each currency (for background info) makes this app a must have for budget travelers.
AroundMe
(Free) A great app for at home or abroad, AroundMe assists you in locating things to do, movie theaters, stores, restaurants, etc. close to your current location.
GateGuru
(Free) The GateGuru app is comprised of searchable directories for 92 U.S. airports and international hubs. Scroll down to find an ATM, a cup of coffee, or a decent meal that won't break the bank.
HazelMail
(Free) If you're like me and normally wind up mailing your postcards after you get home from a trip, then HazelMail is your new best friend. This nifty app transforms your own photo into an actual paper card, adds your custom message and sends it off within two business days. At $1 per card, it's cheaper than mailing it yourself.
Best Inexpensive Apps
FlightTrack
($4.99) Whether you're trying to catch a plane or waiting for your friend to arrive at the airport, FlightTrack's simple interface will help you arrive on time.
Lonely Planet's1000 Ultimate Experiences
($4.00) I'll admit it, this app is far from a budget travel necessity, but it is pretty wonderful for the price. It gives you images and brief information about 1000 of the world's most intriguing places. Like the Soduko app, it will keep you busy in the airport or on the plane so that you don't end up frittering away your cash on cheesy souvenirs or duty-free merchandise.