There are many tours designed to introduce tourists to South Australia's wine regions, but few have the relaxed, personalized service of Alfie's Wine Tours.
Alfie leads tours to the state's premiere wine regions: the Clare and Barossa Valleys, Adelaide Hills, and the McLaren Vale. The latter tour sets off every Thursday, whether there's only one keen wine taster or a bus full. My husband and I were lucky enough to enjoy one of those private tours on a recent Adelaide vacation. There was no missing Alfie's bright yellow bus parked outside our hotel bright and early. The 45-minute drive to the McLaren Vale passed quickly as Alfie told us all about himself and encouraged us to do the same. Alfie is a debt collector by trade, but runs the wine tours as a hobby. Clearly he loves his work, meeting people from all over the country and the world and sharing his passion for a good drop. [caption id="attachment_3860" align="alignright" width="150" caption="A Barossa Valley vineyard"]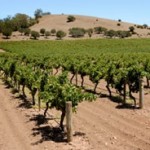 [/caption] His tour takes in some of the smaller wineries in the McLaren Vale, which gives wine enthusiasts the chance to taste vintages not available in their local liquor store.
Penny's Hill Wines
was our first stop, a friendly winery with an extensive range of whites, reds, and dessert wines. After a little early morning tasting some tucker was in order, and Alfie obliged with an antipasto platter. After some cheese and European sausages we were ready to take on
Woodstock
, a small family owned winery with beautiful leafy grounds and knowledgeable, bubbly staff. We couldn't resist taking home a bottle of their very pricey, but delicious Stocks Shiraz, along with a few other drops.
Australian Boutique Premium Wines
was the next stop along the tour. The name sounds fancy, but this is a back-to-basics operation set inside a rustic metal shed. Owner Bob Harrison looks to support the little guy by gathering the best boutique wines from around the country to add to his range.  The simple surrounds mattered not as we treated ourselves to bubbles, stunning whites and red, and some interesting varietals. So much wine quickly took its toll, so it was great to see lunch was next on the agenda. While we busied ourselves with more tasting at
Parri Estate
, Alfie cooked up a two-course lunch in the winery's parklands. With bellies full it was off to
Oxenberry Farm
and dessert. There was the liquid kind available, including the beautiful Right Nut Liqueur Muscat, and a fruit platter and chocolate fondue served by Alfie. Needless to say, after all that indulgence we couldn't help but doze on the way back to our hotel! There are many luxury wine tours offering private experiences and limousine travel, but if you simply want to see South Australia's wineries a trip with Alfie is much more economical, and every bit as fun. Tours start from $70 per person, including lunch.