The Chinese city of Shanghai is made for tourists who want to shop 'til they drop.
Most of them will flock to the well-known shopping strips on Nanjing Road, Yuyuan Shopping City, and Huaihai Road. But you'll find more interesting souvenirs and save some money for the rest of your Shanghai trip if you take the path less traveled and explore the under-appreciated Fuxing Road.
Start your shopping trip at the junction of Ulumuqi and Fuxing Roads, and travel west down Fuxing. That might seem daunting in a foreign speaking country, but Shanghai's street signs are translated into English, and they happily give compass directions as well!
If you're unsure how to get there, simply hail a taxi and tell the driver you want to visit "Woo-loo-moo-chee loo, foo-shing loo." The word lu, which sounds like loo, is the Mandarin word for road. Make sure to leave at least two to three hours to explore the stores at your leisure. The last thing you want to do is rush down this beautiful leafy part of China!
It's easy to miss your first stop, the Skylight Tibetan Gallery, as it's tucked away down a couple of steps from the road. Look out for the distinctive yellow building, which sells gorgeous Tibetan goods including handmade silver, coral, and turquoise jewelry and cotton apparel. You won't be able to bargain here but the prices are relatively affordable, particularly for the quality of the merchandise.
Then cross the road to visit Shanghai Trio's workshop on Lane #37. Here you'll find traditional Chinese textiles including purses, duvet covers, and clothes. Again there's no bargaining, but older lines are often discounted.
Everyone loves to take home a T-shirt from their travels, and Urban Tribe is a great place to find one. Travel a few minutes down Fuxing Road to find the store which features hand-dyed cotton tees alongside photos of Asian landscapes, unique silver jewelry, and quirky pottery. Recharge your batteries with a cup of Chinese tea in the garden at the store's rear.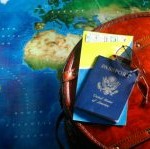 Keep walking west on Fuxing Road to find SQ Décor. It's a small store with plenty of attitude known for its modern interpretations of traditional Chinese crafts. Think brightly colored porcelain, funky glassware, and even the Chinese ancestor painting printed on throw-pillow cases!
Turn left and you'll come to your final destination, Le Passage Fuxing. This revamped art deco building is now home to a couple more shops and the café Ginger. Chowing down on its Chinese take on tapas is a great way to end a busy day of shopping!