We've all spent time staring into an animal enclosure at the zoo, desperately trying to catch a glimpse of the creature the sign assures us is inside.
But the sad truth is, many of these exotic animals are only active once the zoo closes its gates. If you want to see these critters at their best, why not pack your sleeping bags and enjoy a sleepover with a difference at
Sydney's Taronga Zoo
? The zoo's Roar and Snore evenings are led by fun and informative zoo keepers, who settle you into comfortable three-person tent accommodation before introducing you to the zoo's residents. You won't need to gaze at these animals from afar. The staff will let you get up close and personal with friendly animals including lizards, tortoises, wombats, and
Australia's cute, cuddly koalas
. They'll then lead you by torchlight on a zoo safari, where you'll see the rest of the zoo's inhabitants going about their business without the daytime crowds. Once you've worked up an appetite you will enjoy the tasty roast buffet dinner. [caption id="attachment_2951" align="alignright" width="150" caption="Australia's cutest resident, the koala"]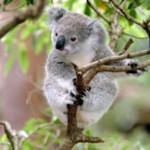 [/caption] There's no better alarm clock than the squeaks, growls, and roars of hungry zoo animals keen to have breakfast. You'll watch them being fed, and meet a few more creatures before the day's visitors arrive. You're free to explore the zoo at your leisure then until the zoo closes for another day. Roar and Snore sleepovers run every Friday, Saturday, and Sunday night. Tickets start from $240 for adults and $185 for children, depending on the season. While this is expensive, the memories you'll make on this intimate zoo experience may be worth the splurge.