We've all heard of swimming with dolphins, and even swimming with whales.
But one South Australian company allows you to swim with a furrier marine creature on their swim with sea lions tours.
Baird Bay Ocean Eco Experience
is located in Baird Bay, a tiny coastal town on South Australia's Eyre Peninsula. Just 8 people lived here at last count, including Eco Experience owners Alan and Patricia Payne. They regard the wild sea lions like their children, and just like any proud parents love to arrange play dates with interested guests. The Australian sea lion is a species indigenous to the land Down Under, although it shares many similarities with other sea lions around the world. Unlike other sea lion species though they have no set breeding season, so keep your eyes peeled for pups while you're swimming with these beautiful animals! Sea lions are naturally curious and love to play in the shallow tide pool which protects them, and their human guests, from sharks. Pups may be shy at first, but before too long they'll happily nuzzle your hands and enjoy a good stroke! [caption id="attachment_4296" align="alignright" width="150" caption="A pair of Australian sea lions"]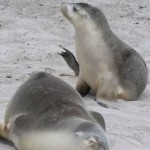 [/caption] An hour can seem like a moment when you're spending time with these friendly sea creatures, and before too long it'll be time to return to dry land, filled with the memories of the special experience you've shared. Baird Bay Ocean Eco Experience swim tours run daily from September 1 until May 31 each year. It costs $140 for swimming adults, and $70 for children 15 years and under. Non swimming adults can watch from the boat for $100. The tour price includes the hire of wetsuits and snorkeling gear. While tickets can be purchased from the Marine Mammal Information Center before departure, it's advisable to book your place during peak times to avoid disappointment.