The treehouses of Vythiri Resort in North Kerala, India, capture the magic of childhood for the environmentally conscious world.
The resort has two treehouses in 500 acres of private forest. The rustic elevated dwellings have two stories, with each floor housing a double room. Each has a bedroom, a bathroom, and a terrace which allows you to appreciate the view. At 90 feet above the ground, this vista is pretty incredible.
You access your treehouse using a primitive elevator fitted with a sack of water for a counterweight. It takes around 15 minutes for the water to fill, but in rural India no one is in a hurry. The basic facilities mean there is no electricity either, but the kerosene lamps cast a romantic glow over the rooms. Contemporary luxuries aren't completely forgotten though. The hot water showers and flushing toilet should please those who appreciate mod cons.
The buildings are designed with green practices in mind. The integrity of the trees is preserved, with no nails actually penetrating the bark.
The eco-friendly resort's grounds are so large you could easily spend a few days exploring. If you want to rest your feet, the resort's friendly elephant Ammu will give you a ride. He only asks for bananas as payment! If you'd rather relax you can take a dip in the swimming pool, indulge in a spa treatment, or feast in the resort's traditional restaurant.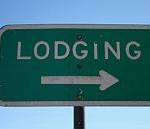 The resort is isolated, but staff are happy to collect guests from the city of Vythiri in their all-terrain jeep. It's pricier than many accommodation options in India, but that added cost buys you a unique accommodation experience and all the luxurious solitude of the great outdoors.