There's something magical about spending time with butterflies, and in Thailand you can do it for free at the Bangkok Butterfly Garden and Insectarium.
The butterfly garden is an enclosed space, so at any one time more than 500 butterflies may be fluttering about your head. Some of the most spectacular varieties include the large Golden Birdwing, the delicate Siam Tree Nymph, and the Giant Silkworm Butterfly.
It might seem a bit cruel to keep butterflies cooped up for their short lives, but this spot is so beautiful I hardly think the insects mind. The 1100 square meter enclosure is decorated with rockeries, flowers and ferns, and even a cascading waterfall for them to play in. The plants are labeled with their names in English, Thai, and Latin, so no one need miss out.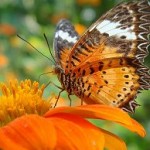 You'll learn plenty watching the butterflies at play, but an informative indoor display complements this. The exhibition charts the life cycle of the vibrantly colored insects and offers other interesting facts.
You'll find Bangkok Butterfly Garden and Insectarium inside Rot Fai Park, next to Thailand's Chatuchak Markets. Catch the subway to Chatuchack Park, and it's just a short walk down Kampaengphet IV Road. The sanctuary is open every day but Monday from 8:30 am to 4:30 pm.