A long soak in a jacuzzi and a luxurious massage sounds like the sort of vacation experiences out of the reach of frugal travelers. But why should budget conscious tourists miss out on all the fun? This article introduces you to several spa resorts that cost a lot less than you'd think.
If you're looking for a cheap spa vacation, it's worth taking a trip to Asia. Indulgence is a way of life here, and it doesn't cost a lot. In Japan they even offer spa experiences in their hostels! You'll find Spa Hostel Khaosan in Beppu, a friendly Japanese city renowned for its natural hot springs and picturesque beach. The shared dorms and private rooms are pretty plain, but chances are you'll spend most of your time winding down in the hostel's own hot spring bath. That natural pool is definitely worth the measly $33 US you'll pay for the cheapest room.
For a little more money you can stay at Banpu Resort and Spa, an idyllic spot located on Thailand's Koh Pu Peninsula. The word resort makes us think of big bucks, but its log cabins start at just $40 US a night. If the sea and garden views aren't enough to relax you then try taking a dip in the pool. You'll pay a little extra to indulge in the Thai massages or reflexology sessions, but your muscles will argue they're worth the splurge.
More expensive again but still not unreasonable is Febri's Hotel and Spa in Bali. Its rooms start from $77 US, but your dollar buys a lot including access to the Jacuzzi, steam room, and sprawling swimming pool. If that calm water feels a bit tame for you, the famous South Kuta Beach is only a short walk away.
Asia really has the market cornered on affordable spa experiences, but Samai Center Hotel-Spa in Ecuador is a great option for anyone wanting to stay a little closer to home. From $70 a night you can experience all the good vibes that radiate from this eco-friendly resort. Its wooden lodges are made from organic materials, and its restaurant serves local seasonal fare, including many items grown in the onsite veggie garden. The resort runs many workshops designed to give you a new lease on life, from Feng Shui classes to meditation programs.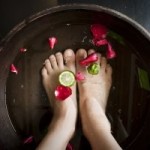 And finally, if you can afford the flight it's worth checking it to Spa Lodge Backpackers in Rotorua, New Zealand. Just like Spa Hostel Khaosan, this friendly hostel makes use of the hot springs its city is famous for. The natural geothermal spa will do wonders for your aching muscles, especially after an action packed day of extreme Kiwi adventures! Dorm rooms start at around $20 US, and the hostel even offers discounts for weekly visits in winter!
So don't dismiss that spa getaway out of hand. If you do your research and plan ahead, it could cost a lot less than you think. Just remember to consider the costs of the treatments, as they can add up quickly!