It's got a reputation for sun, surf, and sand, but there's more to Fiji than its coastal allure.
The island nation is also home to thousands of hectares of tropical rainforest.
While bush walking is always an option, Fiji's zip trekking tours provide an experience that's just a little different.
Zip trekking lifts you up off the rainforest floor and high into the canopy. The method, which originated in Costa Rica, uses specialized climbing equipment to zip from one treetop platform to the next along steel cables.
By getting off the ground, zip trekking allows you to see Fiji's flying foxes, colorful parrots, butterflies, tree frogs, and other creatures that don't live on the forest floor.
With the platforms elevated as high as 45 meters above the ground, zip trekking is not for the faint hearted. To make you feel a little more confident though, travelers are connected to the wire or zip line by secure harnesses. Each harness also has a brake to slow things down. Once your nerves have settled, feel free to forget the brake and enjoy traveling through the trees at 60 km/h speeds.
While zipping along is lots of fun, the platforms give trekkers the chance to stop and take in their surroundings. Here the guides will also share their knowledge of the local area and its flora and fauna.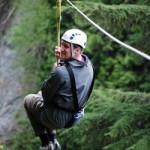 Zip Fiji runs two-hour zip trekking tours every day at Pacific Harbour, located two hours from the Fijian tourist center of Nadi. They cost $125 FJD for adults and $65 FJD for children. This price includes the tour, the guide, and all zip trekking equipment. Bookings can be made in person or online through the Zip Fiji website.