Thousands of tourists flock to New Zealand each year to get their blood pumping. The home of bungee jumping offers many adventure sports, including kayaking, kite surfing, and skiing.
The country's latest contribution is the Shweeb, located just outside Rotorua at Agroventures.
The Schweeb velodrome is the first human-powered monorail track in the world. Its name comes from the German word schwebebahn, which translates to hanging railway. There are two overhead rail circuits: one two meters above the ground and the other four. The pedal-powered vehicles are positioned underneath the tracks; they're secure but free to move around a bit to increase the thrills. As you pick up speed you'll swear that you're flying as you soar over the terrain below!
Racing is encouraged with up to five vehicles able to be loaded on the tracks at any one time. Take on your friends one-on-one, team up for tandem races, or race against the clock and smash your own personal best!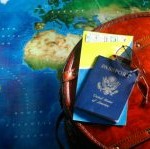 The smooth track and aerodynamic configuration sees riders reaching speeds of up to 45 kays per hour. The bends can be bit hair-raising with angles up to 60 degrees, so you'll need to hold your nerve!
The Shweeb's seats suit riders between 1.4 and two meters tall, although smaller children can ride as passengers. The Schweeb is suitable to ride in any weather conditions, as the pods keep the rain out and a metal roof minimizes the effects of the sun. Rides cost $35 per person.
While you're at Agroventures, make sure you stop to check out some of the other wild rides. Activities include Agrojet, the fastest jet ride in the country, Freefall Xtreme, and of course, bungy jumping!