The North West Province of South Africa is home to the Royal Bafokeng Stadium in the city of Rustenburg. Two additional seating rows were included increasing the overall capacity to 42 thousand. The stadium is going to host first and second round soccer World Cup matches including matches between England and the USA, Mexico and Uruguay, and various others.
There are lots of World Cup accommodation options in this area, including hotels, guest houses, bed and breakfasts, lodges, as well as self catering homes. Some of the best options for accommodation in Rustenburg are Sparkling Waters Hotel and Spa, Blue Hills Guest House, Bakubung Bush Lodge, and Birdsong B&B among others. The area is close to some interesting attractions such as the Magaliesberg Nature Reserve, Mountain Sanctuary Park, as well as the famous Magalies Meander. A bit further outside the town you can also visit the Cradle of Humankind heritage site and take a hot air balloon ride over this magnificent archeological area. If you love nature then this is one of the best places to stay. Other cities where you can find great accommodation include Pilanesburg, Potchefstroom, and Mafikeng. Looking at restaurants and bars that you can visit during your stay in Rustenburg some of the most popular establishments include the Dros which is a famous South African restaurant and wine cellar, Mugg & Bean, a great coffee house also located all over the rest of the country, and Lolla's Pizzeria and Sports Pub. Other fun places to visit when you stay in this area should include the Lost City with its enchanting palace and water world, and for wanting to explore the environment, the Kalahari Desert awaits, as well as the Hartebeespoort Dam, where you can walk with the elephants, do a snake course, and take various hot air balloon rides. As you travel into the Gauteng Province you can once again find great accommodation options and things to do in the
capital of Pretoria
, otherwise known as Tswane. Here, Loftus Versfeld is the stadium used, which is famous in the world of South African Rugby. For the World Cup it will host various first round matches including South Africa versus Uruguay, USA versus Algeria, and Chile versus Spain. It has the capacity for 45 thousand spectators and is located in a perfect position within the city so that you do not have to travel far to go sightseeing. Attractions include the Union Buildings, the Pretoria Art Museum, and the Voortrekker Monument where you can go horse riding. For nature lovers Pretoria is home to the Butterfly Garden, and the Austin Robert Bird Sanctuary. When looking for the perfect place to get a bite to eat you can go to Ristorante Ritrovo where they host dinner concerts and at The Performer you can also get a show along with a great meal. O' Galito, and Josephine's Tea Room are also favorites, but for more sports minded people you will find that Traders Sports Bar, Champions Sports Bar, Cheeky Monkey, Chilli's, Cool Runnings, Lizzards Lounge, and many others are just what you are looking for.[caption id="attachment_3613" align="alignright" width="275" caption="Hotels for the 2010 World Cup"]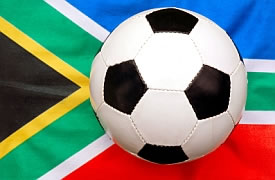 [/caption] Staying in Pretoria you will find that the best suburbs include Centurion, Arcadia, and Hatfield. Some options for your stay include the Villas Luxury Suite Hotel, Melvin Residence Guest House, Grosvenor Gardens, Pippin Lofts, Africa House, Acacia Lodge Centurion, and Dunkelly just to name a few. If you stay here for a week or so you must take advantage of the various activities and sights in the area including paintball, golf, The Barnyard Theatre, The Fried Contemporary Gallery, Hatfield Plaza, Brooklyn Mall, the South African Airforce Museum, Science and Technology Museum, and Transvaal Museum of Natural History. In close proximity to Johannesburg, Pretoria will also be an ideal place to base yourself for many of the World Cup matches taking place at Soccer City and Ellis Park.