We've looked at how to manage your money in Hong Kong, and even how to save cash on a night out in the city.
Now we'll turn our attention to eating well in Hong Kong for less.
Hong Kong has a reputation for being one of Asia's most expensive tourist centers, but your stay doesn't have to cost the earth. You simply must learn to live like a local.
There are bargains to be had by stepping off the tourist trail and exploring hole in the wall noodle shops, Chinese fast food stores, wet market food courts, and small restaurants known as "cha chan tan." While you can easily spend $200 HK ($26 US) in a hotel or Westernized restaurant, you're likely to have change from $50 HK ($6.50 US) in one of these smaller establishments.
If you don't speak Cantonese, it can seem intimidating to approach these tiny eateries. However, the helpful staff will do their best to accommodate foreign travelers. Remembering basic words, including "bah fan" for steamed rice, "chow fan" for fried rice, "mein" for noodles and "cha" for tea, will prove useful.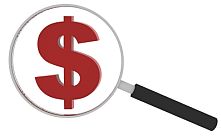 When this fails, you can always point to something which looks good on the menu or market stalls!
Unlike the tourist frequented restaurants, these eateries will not have credit card facilities so it's important to have cash at the ready to settle the bill.
You'll find these small restaurants and open-air stores in side streets and alleys throughout Hong Kong. So leave the well-trodden paths of Lan Kwai Fong and Knutsford Terrace behind and experience Hong Kong the way locals do. With all the cash you'll save, you can afford a lavish meal at one of Hong Kong's most luxurious restaurants later in your stay!