No trip to China would be complete without visiting The Great Wall, a man-made marvel regarded as one of the great wonders of the world.
Known as Changcheng, or long wall, to the locals, the Great Wall travels for some 6700 kilometers following the southern edge of inner Mongolia. In its journey it stretches through deserts, mountains, and grasslands. It was originally built more than 2000 years ago as separate walls dividing the warring states of Yan, Zhao, and Qin. Then during the Qin Dynasty, the emperor joined the walls to fend off the invading Huns. Today some parts of the wall are in ruins, but its historical significance and sheer size ensure tourists continue to visit.
One of the best places to appreciate the wall is Mutianyu in Huairou Country. This location, 60 kilometers north-east of Beijing, is adorned by beautiful trees and shrubbery. It's one of the most commercialized sections of the wall, but don't let that deter you. The souvenir shops may be a little tacky, but hotels and restaurants are welcome modern-day conveniences. The popularity of this location has also seen authorities restore the wall to its former glory with original bricks. This is one of the few parts of the Great Wall which appears as it would have all those years ago.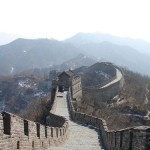 As Mutianyu is set high in the mountains, it's only accessible by cable car. One can take you to the top for sightseeing, while the other is for tobogganing. Both take approximately 10 minutes to reach the summit.
If you're after more than a quick day-trip to the Great Wall, consider joining a guided tour. Many local tour companies such as World Expeditions and Kumuka Worldwide offer Great Wall expeditions of varying lengths for beginner hikers and experienced trekkers.