A haven for writers, artists and other creative types, Berlin is one of the most financially accessible cities in Europe. As a result of the city's political instability over the last decade, there are many areas in Berlin where it is possible to find cheap places to stay, eat and visit.
As is typical when artists enter an area, developers have already started the gentrification process in certain neighborhoods. So visit soon for the best deals! Also, see our piece about
eating cheaply in Paris
, which was published last week.
How to get around:
Between the buses and the underground, Berlin's public transportation system is excellent. Bus Number 100 makes takes a large circular route that hits most of the city's major tourist sites. Berlin's U-bahn/S-bahn lines are very efficient and inexpensive. There are a variety of City Tour Cards or City Passes that allow you unlimited travel on Berlin's public transit for a specified amount of time (from 48-hours to 1 month, depending on the pass). These can be purchased throughout the city, but the easiest place to buy yours is right at the airport when you arrive. If the weather's nice, consider renting a bike to transport you around the city (Berlin is an incredibly biker-friendly place).
What to eat (heaven for foodies on a budget):
[caption id="attachment_4357" align="alignright" width="300" caption="From street food to free entertainment, I describe how to take a budget-friendly trip to Berlin."]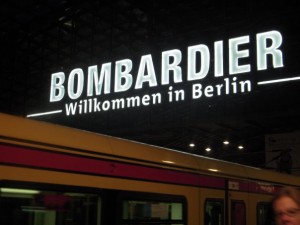 [/caption] There are few places with as many excellent street food choices as Berlin. Stick with street foods like puddingbrezels (a sweet pretzel filled in with custard and sprinkled with rock sugar) or the "national dish" currywurst (sliced, hot pork sausage--"wurst" in German--covered with a combination of ketchup or tomato paste mixed with curry and served with a crusty roll or fries). Berlin is home to one of the world's largest Turkish populations outside of Turkey itself. Look for food stands marked with the sign "Imbiss" where you can get gyro-like sandwiches for low, low prices. Another delicious option is one or several kebabs ("kebap" in Turkish) covered with fresh greens and spiced sauce. Another way to enjoy your kebab is in a thick pita with greens and yogurt sauce (this more portable option is called a döner kebap). Of course, you'll need something to wash down all of these delicious eats. Beer would be the obvious choice, but give Gluhwein a try as well. It's a hot, spiced red wine, typically prepared with cinnamon sticks, vanilla pods, cloves, orange peel and sugar. Fruit wines such as blueberry wine and cherry wine are sometimes used instead of grape wine. I like mine best "mit rum" (with a shot of rum).
Where to stay:
Berlin boasts a variety of economical hotels, hostels and rooms for rent. There are literally hundreds of smaller boutique hotels that offer comfortable accommodations and breakfast for less than 80 euros a night. If you know people living in Berlin, ask them for ideas. It's relatively easy to find someone willing to rent you a room in their home for a few weeks.
What to buy:
Berlin's fashion boutique culture has grown considerably in the past ten years. Though it's fun to browse in these shops, stocking up on gifts and souvenirs here will surely empty your pockets. For unique, handmade or vintage finds, consider checking out one of Berlin's many flea markets (flohmarkts). You can find more than just "old stuff" at Berlin's flea markets; this is also where artisans and craftspeople come to sell their wares. Here are some of the most popular: Flohmarkt am Mauerpark  market is open each Sunday and located near to the Friedrich-Ludwig-Jahn-Stadion M10 tram stop (formerly Oderberger Straße) and is a short walk from the U2's Eberswalder Straße (Station). Euroflohmarkt is open daily (9am – 6pm; Wed. 3pm – 6pm). Located in Pankow. Nearest U-Bahn station: Vinetastraße (U2); Tram: M1, M13 (Bornholmer Straße / Schönhauser Allee). Straße des 17. Juni Flohmarkt's opening hours are Sat. – Sun. 11am – 7pm. The closest U-bahn stop is Tiergarten. Flohmarkt am Arkonaplatz is open Sun. 10am – 5pm; in winter until 4pm. The closest U-bahn stop is Bernauer Strasse. Another good option for shopping is the cultural market at Alexanderplatz or the weekly artist market on Museum Island. If you're there during Christmas market season, then you're in luck. There is a huge one at Alexanderplatz where you'll be able to stock up on holiday goods from the last weekend in October- December.
What to do:
There is plenty of free entertainment available in Berlin. I suggest heading to the parks. For example, musicians and artists fill the expansive Tiergarten park near the city center. Grab the fixin's for a picnic lunch and enjoy the lovely scenery and, if you're lucky, live music. Many of Berlin's historical sites and memorials are free as well. Explore one neighborhood at a time (on foot) and you'll be pleasantly surprised by all of the things you find to do on the cheap.