The number one rule of backpacking is to travel light. However it's important to grab the essentials before you set off on your frugal vacation. In this article we look at the items that should be in every backpacker's knapsack.
The first item on any backpacker's luggage list must be the backpack itself. Ensure that it's comfortable with padding in the back and wide, adjustable straps, as you'll be spending many long days with it attached. Durability is also an important point to consider. You'll spend more money on a sturdier knapsack at first, but it'll pay for itself in the long run.
Clothes are a given, but make sure that you don't take too many. Packing tops that can be layered up is a great way to avoid bulk. We suggest taking a few outfits that can be easily laundered during your travels. If the modern royals can wear the same outfit when they step out, so can you! Also find space for a raincoat if there's a chance of inclement weather. Sticking your clothes in a vacuum-seal bag is a great way to save on space.
A smartphone is a modern-day essential for many people, and that goes double on your vacation. It does away with the need for guidebooks, maps, a camera, notebook, and more. And did we mention that it's a great way to stay in touch, so long as you heed those pesky global roaming fees? Make sure you take a look at our free travel app guide for some useful programs.
The importance of a water purifying bottle will depend on your intended location. If you're traveling through privileged areas in the Western world it might not make your shortlist. However if you're backpacking through Asia or South America, it could save you from contracting a nasty bug.
Some may consider noise cancelling headphones to be an optional extra, but anyone who's traveled with them may disagree! Say goodbye to the cries of unruly babies on long haul flights. Forget about the amorous sounds of your backpacking buddies. And enjoy the extra hours of shut eye these clever gadgets provide. If your mates are particularly rowdy a sleeping mask may be another wise investment.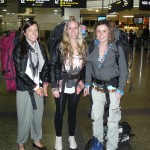 It's a no brainer but it deserves to be said: never leave home without your travel documents. You won't get very far without your plane or train tickets and a passport. Always double-check you're carrying these important papers before you head out the door.