Many frugal travelers believe overseas vacations are luxuries outside their budgets. But a trip abroad needn't cost you the earth, if you consider our cut-price ways to fly.
The first consideration for any trip is, of course, your destination. This is likely to be dictated by your budget. Popular holiday hotspots often attract high air fares, while poorer countries with less tourist infrastructure tend to court lower travel costs. Don't let those location limitations scare you off. Traveling to these parts of the world can be a real adventure! Look to Central America, Asia, and Eastern Europe for some real budget buys.
You needn't settle on the regular travel rate though. If you have some flexibility regarding your destination and times of arrival and departure, you can save a small fortune on those overseas flights.
Airlines don't want to fly with empty seats, and they'll discount flights significantly to see them filled. If you're flexible with your travel dates and destinations, you can bag a bargain by flying standby. The American company AirTech and the British firm Standby Flights both allow travelers to secure these low stand-by rates. Standby Flights real-time service makes it the most reliable. Once you've booked the ticket is yours, and you need only present your confirmation printout and passport at the check-in counter to fly. If you're not a Brit, AirTech is still a good option with 90% of customers completing their flights. If the flight fills after your booking you'll be bumped from the flight, but you'll get your money reimbursed in full. That's just what you need to try again!
If the spontaneity of a standby flight doesn't suit your schedule, you could save cash buying your flight through a consolidator. These firms enjoy a discount for buying a bulk block of tickets directly from an airline. They then offload these tickets for less than the regular retail prices. You can deal with a consolidator such as Airline Consolidator or AirBank directly or ask your travel agent if they have any consolidator tickets.
Don't ignore discount travel websites like Travelocity and Expedia either. When flights are in demand, the competition for consumer dollars can drive the prices much lower than you might expect.
It makes sense that traveling the most direct route will cost the least amount of money, but that's not always the case. If you've got time on your side, adding a stopover or flying to a small city close to your location can save you some serious cash.
Bargain hunters should also choose the time they're flying carefully. Altering your travel plans by just a few days could result in significant savings. Midweek flights are often cheaper than those departing on weekends, while early morning and late night journeys are typically less expensive than those leaving in the middle of the day. Traveling outside school vacation periods and peak seasons is also a great way to cut costs. As a rule you'll find the cheapest international flights between fall and spring.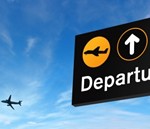 And finally, don't forget your frequent flyer points! These days you don't need to be a regular traveler for the loyalty points to add up quickly. Some airlines release sponsored credit cards, which will see you earning points for every dollar you spend. Many rental companies and hotels are also happy to accept cards from affiliated frequent flyer programs. Missing these opportunities could prove costly. Some airlines are also pleased to accept a combination of cash and frequent flyer points as payment.
So stop dreaming about that overseas getaway and start exploring the world. It might cost you far less than you think!