Food typically takes a major chunk of any vacation budget. Cooking in your room can save some serious dollars, but many accommodation options don't have kitchen facilities. Without the comforts of home, travelers often need to eat out, and these restaurant meals can add up quickly. This article offers budget tips for restaurants and other eateries.
Wherever possible, avoid paying full price. Before you set off, consider signing up for group deals websites in your intended destination, or investing in an Entertainment Book. Both services allow you to dine out at local restaurants for a fraction of the price. Local newspapers also often have discount vouchers for restaurants in the area.
It can be tempting to go crazy when you're dining out, but resist the urge to indulge in all three courses. Eating an appetizer, an entrée, and dessert can become a habit that's difficult to break. Consider how hungry you really are, and order accordingly.
If you are feeling especially peckish, it's typically cheaper to choose a buffet restaurant over one offering an a la carte menu. Many smorgasbords charge less than $10, and allow patrons to enjoy as many appetizers, mains, and desserts as they like. The dishes offered are also typically diverse, so they can be a great way to sample plenty of local specialties and food from around the globe. They're especially affordable for families too, as many buffets allow children to dine free.
If you're desperate to try your destination's high-end restaurants, visit at lunch rather than dinnertime. Lunches are never as busy, so restaurants do their best to lure diners in. It's common to find more affordable menus and delicious lunchtime specials.
Specials aren't only offered at lunchtime though. Most restaurants offer a selection of daily specials at a reduced rate, no matter what the time of day. Choosing one is a great way to save some money, and try a dish recommended by the chef himself!
With the concept of Meatless Mondays gaining popularity, more diners are considering vegetarian options. Meals made with vegetables, whole grains, and other plant products are generally lower in calories than meat-heavy dishes, but forgoing meat doesn't just make sense for health nuts. Meat-free dishes are often more affordable. At a good restaurant they're typically just as delicious as the meaty alternatives too. Who could resist a mixed mushroom risotto, a spinach and ricotta cannelloni, or a hearty vegetable curry?
Alcohol is another temptation that can add a significant amount to any restaurant bill. Bottomless sodas or water will keep you satiated without breaking the bank. If you must enjoy wine with your meal, consider ordering a single glass or sharing a carafe rather than a bottle.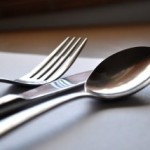 It might seem a bit stingy, but if your budget's tight, don't be afraid to ask for half portions. Some restaurants will happily serve you a smaller meal for less. Alternatively consider ordering an appetizer rather than a main course. Often these smaller, less expensive meals are large enough to satisfy.
If you find yourself becoming full, don't let your extra food go to waste. The large portions at generous restaurants can actually make two meals. Take a doggy bag home, and you can enjoy an easy lunch the following day!