Many frugal travelers reject international hot spots like London, Paris, and Sydney in favor of more budget friendly alternatives like Thailand and Mexico. But it'd be a shame to let life pass you by without ever visiting your dream location. The good news is, you don't have to. So long as you can save the airfare, our handy tips can ensure you save money once you arrive.
Firstly consider the time you'll travel carefully. Vacationing in the peak season may offer the best weather conditions, but if you don't mind a chill you could save some serious cash.
It's a bit boring, but creating a budget is the secret to avoiding a vacation blowout. Consider a reasonable amount to spend each day, and then stick to it. Write down your expenses each day to ensure you're staying on track. You could even find you've got some extra spending money at the end of your trip!
Once you've arrived, you'll need somewhere to lay your head. It can be tempting to stay in the thick of the action, but the most expensive accommodation is generally in the heart of any city. Research the local area before you leave and consider staying on the outskirts to save some extra cash.
You might be on vacation, but you'll save money if you spend your time living like a local rather than a tourist. Cook some meals in your hotel room and spend time absorbing the culture rather than frequenting high priced tourist attractions. While you're soaking up the atmosphere, why not strike up a conversation with a local resident? This is a great way to discover the best value restaurants, affordable accommodation options, and the local gems not listed in the tourist brochures.
Make sure you travel off the tourist path too when your tummy rumbles. You'll satisfy your hunger for less by avoiding the city's usual dining options. When traveling to a foreign country, steer clear of eateries with English menus. Some of Europe's best value restaurants are in its back streets, and Asian street food is always cheap and delicious.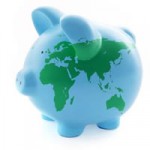 And finally, don't reach for your wallet to keep yourself amused. Big cities always have an abundance of free entertainment, from national parklands and hiking trails to museums, art galleries, and historic sites. If you're lucky you might also stumble across a free festival or concert. And remember, it's always free to window shop. Perhaps thanks to our money-saving tips you can even indulge in a few souvenirs!