A long haul flight in economy isn't anyone's idea of fun. You know you'll save serious dollars by choosing the budget air option, but it's hard to avoid looking enviously at the movers and shakers settling in to the business and first class seats. However traveling cattle class need not be as painful if you follow our simple tips.
Make sure that you dress for comfort rather than fashion. Unless you're an A-lister you won't be greeted by paparazzi, so you don't need to dress to impress. Choosing layered clothes is a smart option, as you can simply peel off clothes if the heat's too high, or add a sweatshirt if you're feeling a chill. And ladies, make sure you stash your stilettos in your luggage. A comfortable pair of sneakers or ballet flats will serve you much better.
Don't go overboard on the extras. While travelers are technically allowed to take some carry-on luggage and a personal item on board, you'll feel less cramped if you forgo one or both. The less cargo you carry, the more room you'll have around you.
No matter how cramped your space, deep-vein thrombosis is a very real concern for travelers, especially on international flights. It's important to keep moving to avoid the condition. Simple exercises like rotating your ankles and raising your knees can be very valuable. You should also try to walk around the cabin every half hour to stretch your legs. Staying hydrated is also a great way to stave off deep-vein thrombosis. Take a bottle of water with you, and limit caffeinated and alcohol drinks. As an added bonus, keeping your fluid up will help you stay energized!
Distractions are also key to minimizing flight discomfort. A friend to talk to or a good book to read (on an eReader to minimize bulk of course) will help the hours fly by. If you're lucky you'll also have free in-flight entertainment like movies, television programs, and games at your disposal. And if there's nothing else around to distract you, why not drift off to dreamland? It can be tough to take a really restful sleep in economy class, but indulging in forty winks is a great way to pass the time. It should also help stave off the jet lag once you land!
And don't forget about the snacks. A rumbling stomach can make any flight seem much longer, and more uncomfortable. Depending on your carrier food items may cost a small fortune, so it's smart to carry some with you. Snacks with a low glycemic index like nuts, popcorn, and fresh fruits and vegetables will satisfy you for longer.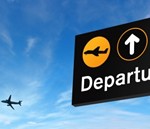 No one wants to spend more money than they have to, but opting for a seat with extra legroom can be a great compromise between regular economy and business class. For around $40 extra you'll have enough space to stretch out. This can be a godsend if you're tall or embarking on a lengthy trip.
By following our advice you should arrive at your destination feeling a bit fresher and pain free. And you'll do it with some extra spending money!