Australia may not have the romantic reputation of France or Italy, but that doesn't mean they don't know a thing or two about love Down Under.
If you want to spend some quality time with a special someone, or even pop the question, here are some Aussie destinations worth considering.
Wineglass Bay in Tasmania has arguably the best vista in Australia. The curved coastline and clear water are the stuff romance is made off. It will take an hour to reach the look-out on foot, but think of it as more time to spend with the object of your affection!
A hike up Mount Kosciusko in the New South Wales Snowy Mountains puts you on top of Australia, literally. The country's highest peak may not hold a candle to the tall summits in other nations, but that only makes it easier for the average person to climb. And if you've never scaled any of the great mountains of the world, you'll still be impressed by the view!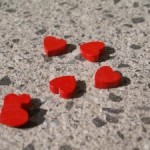 Oak Beach in Port Douglas is a bit of a local secret, but that makes it perfect for an intimate picnic lunch. It's likely that you'll have the place to yourself, so pack a gourmet hamper and a bottle of bubbly and enjoy the serenity.
The thermal waters and waterfalls of Poppy's Pools are the stuff that romance is made of. This beautiful secluded spot is nestled in the bushland of the Northern Territory's Cape Crawford. For the ultimate in luxury, contact the Cape Crawford Tourism. They'll fly you in by helicopter and ensure you can enjoy the pools in absolute privacy.
A list about romance in Australia would not be complete without mentioning Heart Reef in the Whitsundays. It's almost clichéd, but flying over the heart-shaped island is likely to make even the most hardened cynic melt.