The South Pacific has become a hot destination for couples wanting to get hitched and enjoy their honeymoon at the same time. Most resorts in the Oceanic region offer wedding packages, with ceremonies typically performed on the tropical locale's beaches.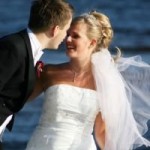 A marriage license should be obtained on arrival in the South Pacific. This is generally a simple process, but both bride and groom must ensure they have their identity documents. These include a passport, certified copies of your birth certificate and, where applicable, copies of decrees of divorce or death certificates if widowed.
Fiji is the most popular destination for South Pacific weddings. It has numerous resorts providing wedding packages, and many even have their own chapels. If you hope to invite more than 30 guests, a large resort is the best option.
While the atmosphere may be less personal, these hotels are able to cater for a sizable party. For something more intimate, the smaller resorts on Fiji's outskirts are more appropriate.
The Cook Islands' capital, Rarotonga, offers weddings at almost every resort. The packages are varied, offering everything from a traditional wedding on a beach, to a church wedding backed by a full choir or a private ceremony on an uninhabited isle.
Samoa has a fledgling wedding industry, with only a handful of resorts offering beach weddings. These include Le Vasa Resort, Siufaga Beach Resort, and Le Lagoto Resort. While the back-to-basics style may not suit flashier couples, it's ideal for those looking for something low-key and romantic.
Tahiti poses the most challenges for couples, with an exhaustive amount of paperwork required before the ceremony. Thankfully resort staff will be happy to help should you get stuck. The effort is worth it though, with Tahiti offering some of the most indulgent wedding packages in the South Pacific. Traditional ceremonies and dance performances are designed to make your big day memorable.
Tonga is the most conservative island in the South Pacific, and as such it does not permit beach weddings. Instead Tonga encourages couples to have a Christian ceremony in one of the island's many churches.