Scallops are a New Zealand delicacy, and nowhere are these delicious mollusks more celebrated than Whitianga.
The small coastal town on the Coromandel Peninsula hosts a Scallop Festival every August.
The winter weather puts a chill in the air, but for five days in late August thousands brave the cold to enjoy the annual seafood and wine festivities. A whopping 35, 000 scallops are gobbled up during the festival. They're crumbed in macadamia nuts, served on seaweed, smothered in a blend of coconut cream and Midori, wrapped up in bacon, and of course eaten as they come, straight from the shell.
If scallops aren't to your tastes, that's no reason to stay away. There are plenty of other local gourmet goodies on offer including seafood chowder, venison burgers, wild pork, and the country's famous sauvignon blancs.
Saturday is the liveliest day of the festival, with scallop tasting, seafood auctions, and chef competitions. Live jazz and the hilarious Ode to the Scallop poetry slam contest are also popular.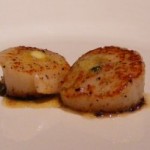 Whitianga is located two hours east of Auckland. This year's event runs from August 25 to 29. Go Kiwi Shuttles runs buses from Auckland, Rotorua, Whangamata, and Tauranga to Whitianga, while 360 Discovery ferries leave Auckland every Friday night for Coromandel Harbour. The Free Scallop bus travels around Whitianga during the festival to take visitors to and from the event. Festival passes cost $50 for adults, $10 for teenagers, and $5 for small children.