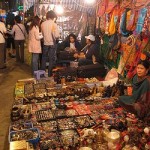 Most visitors to Hong Kong visit the Chinese territory to do just one thing: shop until they drop!
Harbour City Estate in Tsim Sha Tsui is a shopping mecca, with approximately 700 stores, 50 restaurants, three hotels, and two cinemas. The complex specializes in fashion with big name brands like Moschino, Gucci, Prada, Burberry, and Pringle of Scotland. It's also home to the largest Toys 'R' Us store in Asia. Harbour City Estate is conveniently located adjacent to the Star ferry, bus terminal and MTR Station. There are also parking spaces available for 2000 cars.
While the mall offers diversity, if you're after bargains the markets are a much more appealing option.
Here you can haggle for the best price on a great range of new and vintage wares.
Temple Street Night Markets are the most famous open-air markets in the territory. From dusk, stall owners begin to peddle men's apparel, second-hand goods, local gourmet delicacies, and souvenirs. But a trip to these markets is about more than simply shopping. Fortune tellers, Cantonese opera singers, and other performers add to the vibrant atmosphere. Temple Street extends from Jordan to Yau Ma Tei in Kowloon.
Collectors should make sure they stop by the Jade Market, which lies just a few blocks away on Kansu and Battery streets. Around 400 stalls sell everything from valuable jade jewelry and carvings to inexpensive trinkets. Jade is in important stone to the Chinese people, as it's believed to encourage longevity and good health. The bazaar is open daily between 10 am and 5 pm. If you don't find what you're looking for at these markets, walk a little further to Jade Street. Jade stores operate here every day but Sundays. Jade Street is easy to find. Just look for the giant three-ton jade stone at the junction of Canton and Jordan Roads! Note – Visit JobMonkey to learn about teaching English in China for six months or a year.
Many tourists feel Hong Kong isn't as inexpensive as it used to be, but there are still some unique and worthwhile buys if you know where to look.