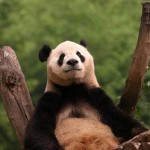 The giant panda is one of the world's most beloved animals, and sadly one of the most endangered. No visit to China would be complete without observing one of these real-life teddy bears.
It's estimated that just 2500 giant pandas roam freely in China's mountain forests today, their numbers severely depleted through habitat loss. While your chances of spotting one in the wild are slim, some of China's many wildlife parks showcase their national animal.
Beijing Zoo is home to Gu Gu, a notorious giant panda who's made international headlines for his feisty temper. Pandas may be docile by nature, but Gu Gu doesn't take kindly to trespassers. On three separate occasions, Gu Gu has attacked visitors who've climbed into his enclosure.
The zoo is served by Line 4 of the Beijing Subway.
The Chengdu Panda Base provides a more focused panda experience. This non-profit research and breeding facility is home to more than 50 giant pandas, red pandas, and other endangered Chinese animals. The centre allows visitors to observe pandas in an area resembling their natural habitat. It takes approximately three hours to walk around the park or an hour and a half by tour bus.
The Shaanxi Rescue and Breeding Center of Rare Wildlife offers a more hands-on experience for those willing to spend the time, and cash. This center is located in a remote area, approximately two hours from Xi'an at the foothills of the Qinling Mountains. It is home to more than 10 giant pandas who have been rescued from the wild or poachers, born in captivity, or orphaned. The center encourages breeding and reintroduces the animals into the wild. Volunteers are placed at the center for between two and four weeks. The volunteer fee includes all activities, food, accommodation, and a charitable donation to the project. International volunteers help care for the pandas and teach the staff English.
No matter where you see one, an encounter with a giant panda is one that visitors to China never forget.