When international tourists think of Queensland they tend to think of the sun, surf, and sand of The Australia Gold Coast.
But within Australia, the state has another, more dubious reputation as the home of Big Things.
More than 40 massive sculptures are dotted around the state. There are enormous animals, gigantic pieces of fruit, and in true Australian fashion, a massive bottle of beer. Many travelers stop to take photos with the curious structures and enjoy the other facilities found there. With many Big Things seemingly located in the middle of nowhere, Big Things give tourists a chance to enjoy a meal, buy some souvenirs, and stretch their legs on a long journey.
The Big Pineapple is one of the state's most popular Big Things. The 52-foot fiberglass structure welcomes visitors to a working pineapple farm in Woombye. There's a winding staircase inside, which takes guests through an exhibit detailing the plantation's history. The staircase leads to a viewing platform, which offers superb views of the plantation and the nearby Big Macadamia.
With a population of just over 1000, Normanton had to work hard to attract tourists. They did it with the erection of not one, but two, Big Things. The most famous differs from most Big Things, as it's actually to scale. However, there's nothing ordinary about Kris, an 8.63 meter replica of the largest crocodile ever caught in the area. It was shot by a female school teacher on the river banks in 1957. I assume that tough school ma'am had no discipline problems with her students! Normanton is also home to the Big Barramundi.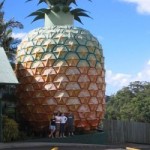 This fishy six-meter tall sculpture is a nod to the area's reputation as the Barramundi Capital of the North.
One of Queensland's newest Big Things is The Big Gumboot. This golden boot was erected in 2003, but its history stretches back much farther. The North Queensland towns of Tully and Babinda have long argued about which spot's the wettest. Since 1970, the town with the greatest annual rainfall has been presented with a golden gumboot. In erecting this golden gumboot in 2003, Tully seems to have claimed the ultimate victory. The structure stands 7.9 meters tall, the same height as the town's record rainfall in 1950.
Perhaps a Big Umbrella in Babinda will be Queensland's next tourist attraction!