Are you an art lover with champagne tastes on a beer budget?
Planning a trip to New York in the near future? No worries, we've got you covered. Some of the city's premier arts institutions offer "pay what you can" or free entry days/evenings throughout the weekend. Programs like Art in the Parks fund public art installations all over the city. If you schedule it right, you can end up hitting all of these arts venues on their flexible payment or free days. As for other museums in New York, if you are a member of a major museum in your home city, check to see if any of the New York museums you are interested in visiting offer reciprocal membership benefits (free admission). Also, certain museums offer free admission to Bank of America cardholders, so it's a good idea to ask at the ticket counter. Related:
Museums in Chicago
and Minneapolis.
Museum of Arts and Design (MAD)
[caption id="attachment_4603" align="alignright" width="300" caption="Visitors at MOMA"]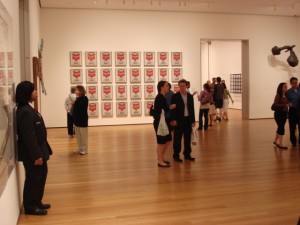 [/caption] 2 Columbus Cir New York, 10019 Tel: (212) 299-7777 Pay what you can Thursday 6-9pm If you're a fan of functional art (jewelry, furniture, household items, etc.) with great design, then you're sure to love the Museum of Arts and Design. The museum's rotating shows feature cutting edge design and historical retrospectives.
Bronx Museum of the Arts
1040 Grand Concourse Bronx, NY 10456 Tel: (718) 681-6000
Free on Fridays (11am-8pm) The Bronx Museum boats an impressive collection of art from Asia, Europe, Central America, South America and the U.S. Expertly-curated rotating exhibitions like the current Urban Archives: Happy Together (selections from the Asian and Asian-American collection) are sure to please.
The Guggenheim Museum
1071 5th Avenue, New York 10128-0173, Tel: (212) 423-3500 Pay what you wish Saturdays from 5:15 - 7:45 p.m. (last ticket issued at 7:15) The architecture of the Guggenheim alone warrants a visit, but as long as you're there you might as well check out the world-class international art collection housed within this impressive structure. From selections from the permanent collection to installation pieces to touring exhibitions, there's something inside to please virtually everyone.
New York Museum of Modern Art  (MOMA)
11 W 53rd St New York, 10019 Tel: (212) 765-3170 Admission is free for all visitors on Friday Nights from 4:00-8:00p.m. (sponsored by Target). It's best to get there early (before the locals get off work, as only a limited number of tickets are available. Tickets for Target Free Friday Nights are not available in advance. If you're a fan of modern and contemporary art, you absolutely must visit the famed MOMA. Pieces from their massive permanent collection are always on display, as well as a variety of rotating exhibitions throughout the year.
Art in the Parks
At parks throughout the city Free Sponsored by the City of New York, the Art in the Parks organization collaborates with a variety of galleries and artists to bring public art to parks across the city. See their website for a complete list of  works on view and their locations. Happy museum hopping!