Tired of spending the big bucks on mediocre hotels? Looking for a more personal and flexible lodging option? Going on vacation with several couples or families and looking for a comfortable shared rental? I strongly suggest trying a vacation condo rental on your next trip. Due to the crash in the housing market, there are now more private condo/apartment/guest house/house rentals available than ever before. Some of these properties are rented out by individual owners, and others are management by rental agencies. One thing is for sure, you'll typically get a lot more bang for your buck if you opt for a vacation rental over a traditional hotel or motel room.

Top advantages of vacation condo/house rentals:
If you are traveling with a group, renting a large condo or house ends up being much less expensive (and typically more fun!) than each getting a hotel room.
Vacation rentals often feel more "private" than a hotel or motel.
Some vacation rentals include breakfast (similar to a b & b format).
Most vacation rentals come with kitchen facilities (or at least a fridge and a hot plate). This allows you to prepare more meals "at home" and avoid spending a lot eating out all of the time.
Unlike chain hotels, most people who rent out their condos/houses are somewhat flexible in terms of arrival/departure times.
Many people who rent out their condos/houses take a lot of personal pride in their properties and throw in "extras" to make their guests stays more enjoyable.
If you travel to the same place each year, it's nice to establish a relationship with the owner of the rental property. This makes you feel like you have a "home base" when you are planning your next trip there.
Advice/tips for renting a vacation property: [caption id="attachment_4372" align="alignright" width="300" caption="View from a Vacation Rental in Puerto Rico. In this post I give tips for finding inexpensive vacation rentals all over the world."]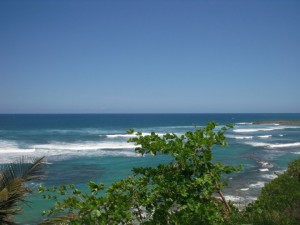 [/caption]
It's important to do all of the research about a rental location before committing to renting it.
Go through a reputable website (like one of the ones I've listed below).
Be sure to read past reviews about the property/managers/owners, etc. The experiences of past renters will help you decide if this is the type of place that will work for you and your traveling companions.
If the owner/manager has not posted any pictures, email them to see if they can send you images of the property. If they refuse, this is usually a bad sign regarding the condition of the rental property you should avoid this rental.
Get everything in writing, including special accommodations, rate, length of stay, etc. Both you and the renter should sign the contract and you should each keep a copy for your files.
If you enjoy your stay and would like to rent this vacation property again, book early to ensure that you'll be able to stay there on your following trip.
If you enjoy your experience at a vacation rental property, leave a review on the vacation rental site you went through to find this location. This will help your "rental gem" thrive and allow other people to have the same wonderful experience you did.
Likewise, if you have a negative experience at your vacation rental, it is important to go online and leave feedback so that the owner/manager knows what to improve for future guests (and so that other renters can be on the lookout for problems or, in extreme cases, not rent this location).
Top resources for cheap vacations:
Vacation Rental by Owner (VRBO)
This site allows you to search over 140,000 vacation rentals all over the world (search options are filtered by country, state/district, city and neighborhood). Rental profiles are complete with photos, accommodation information and reviews from past guests. They will send you emails (in you choose) with recent promotions, discounts, etc. for the areas you travel to most.
Vacation Rentals
This site allows you to search from over 35,000 beach houses, condos, etc. in the U.S. There is a definite emphasis on coastal cities and family-friendly accomodations. There are some great deals to be found in this site.
HomeAway Vacation Rentals
HomeAway is an international property rental site that specializes in more upscale rentals. However, there are still some deals to be found here, especially if you are traveling with a group.
Vacation Rentals 411
In terms of selection, this site has less rental listings than the others I've mentioned (24,000), but there are some really great deals to be found here.
European Home Rentals
If you're planning a trip to Europe, put our tips to good use. There are some bargains to be found, especially if you are traveling with a small group. Happy hunting!