In this modern world it seems there's an app for just about everything. In the past we've looked at 10 great apps for general travel, but there are so many nifty programs that we had to revisit the topic. This time around we're turning our focus to the best free apps for road trips.
Despite rising fuel costs, the road trip remains the friend of most frugal travellers. The journey typically costs less than air travel, and it's easy to get around once you reach your destination. While you'll want to take your partner and perhaps the kids along, a Smart Phone armed with these apps is another essential traveling companion.
GoogleMaps
This app is such a travel essential that I'm surprised it didn't make our first top 10 list. However perhaps it was better saved, as it's perfect for road trips. It'll pinpoint your location, even if you don't know quite where you are, and then tell you how to reach your destination. You'll probably make most use of the driving directions, but don't overlook the public transport and walking instructions. These functions are perfect for sightseeing once you reach your destination.
BestParking
BestParking is a must for frugal travelers who enjoy urban vacations, as it displays the most affordable and most convenient parking lots and garages. Anyone who's been slugged for inner-city parking will be thankful for this handy guide. It's just a shame that its database is so small. With only 40 American cities and three Canadian ones represented, it becomes useless if you want to travel off the beaten track.
GasBuddy
GasBuddy's another nifty app to help you save. As its name suggests, the program displays the gas prices in the area you're visiting, so you can decide where to fill up or whether it's worth waiting for the next town. If you report the prices in your area you can also earn points towards GasBuddy's regular prize giveaways.
Pandora Radio
It's not a road trip without a killer playlist, and there's an app to take care of that too. Many desktop users have enjoyed Pandora Radio's service for years, and now with the advent of its mobile app you can take the site on the road. Amongst its features are the ability to create a QuickMix of your top tunes and stream the sounds of your favorite artists.
Scout
Scout takes care of your entertainment needs with a list of free activities and events in your chosen destination. By entering in your personal interests you can make sure Scout finds entertainment that meets your needs. However unfortunately Scout only offers information in American destinations, which is disappointing for anyone traveling abroad.
Jiwire Wi-Fi Finder
Hotels and hostels can charge a pretty penny for internet access, but you don't need to swallow these fees with Jiwire Wi-Fi Finder. This clever app seeks out public Wi-Fi hotspots, including many free internet hubs. If you don't mind loitering in cafes or libraries to check your e-mail, this is the app for you!
Instagram
Instagram is becoming one of the hottest apps online, and it's perfect for travelers. Leave your bulky camera behind and use this app to capture your vacation memories. Snap away, choose a fun filter to transform the look of your images, then post them to the Instagram website to create a vacation photo diary. You can also share your pictures with friends on Twitter, Facebook and Tumblr to update them on your adventures.
Where Do Kids Eat Free Today?
As its name suggests, this clever app helps families cut the cost of vacation meals. Its convenient search engine shows restaurants and eateries in your location serving cheap or even free meals to minors. Again you're limited to American destinations, but as most families holiday close to home it should meet the needs of most frugal clans.
The Weather Channel
This premiere weather app lets you know whether to pack umbrellas or heavy coats for your road trips, and what to wear each day. It pinpoints your location and provides long-term forecasts so you always know what's ahead.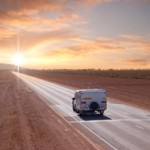 AAA Mobile Apps
These apps aren't technically free, as you'll need AAA membership to download them. However the roadside assistance provided, plus the apps' features, are enough to encourage most road trip regulars to pay the annual $52 fee. Once you do you can enjoy a range of apps including AAA Insurance, AAA Roadside, AAA Triptik Mobile, and our favorite, AAA Discounts. This money-saving program offers discounts at more than 110, 000 restaurants, tourist attractions, and hotels across North America. Making this range of apps one entry was also a sneaky way to get all of AAA's clever services in our top 10!
There really is a glut of useful travel apps so there are likely to be many we couldn't squeeze into our top 10. What's your favorite app when you're on the road?