As the weather begins to warm the prospect of sitting inside stuffy lecture theaters starts to sound even less appealing than usual. If the college grind is getting to you, a gap year might be just what the doctor ordered. In this article we look at the best, and most affordable, destinations for college students to kick back.
Thailand has long been a favorite destination for young travelers, and its popularity doesn't show any signs of waning. The cost of living is very low, and it's got plenty of nightlife and activities to amuse twentysomethings. And as it attracts so many backpackers, it's a great spot for making connections with likeminded individuals from all around the world.
Bangkok's Khao San Road is particularly popular with foreigners, and it's little wonder. By day you can enjoy its eclectic stores, massage parlors, and street food. Once night falls the street doesn't stop either; there are bars aplenty! If you really want to party make sure you head to Haad Rin Beach for one of the famous full moon parties. These nights can get pretty wild, but the experience is on the bucket list of most young travelers.
Staying in Thailand doesn't have to be all about letting your hair down though. If you're feeling altruistic you could give back by volunteering at the Patara Elephant Farm in Chiang Mai. Or why not clear your mind and live with the monks, and their tiger pets, at Wat Pha Luang Ta Bua Yannasampanno monastery? Getting close to the people and the animals they care for is something you won't forget.
Once upon a time if a young person was planning a gap year vacation Down Under, they'd head to Australia. But these days New Zealand is becoming the destination of choice for backpacking tourists. While the flights are expensive, an abundance of seasonal jobs help travelers justify the initial outlay. Picking fruit or working on a sheep station is a great way to stay fit, meet other travelers, and earn the money you need to make the most of your stay.
After all, you haven't really had a trip to New Zealand unless your blood was pumping and your heart beating faster than you ever thought possible. Adrenalin junkies will find the cash injection from seasonal work helps them bungy jump, salt water kayak, ski the country's volcanic slopes, and enjoy other Kiwi adventure experiences.
South America's another great destination for active travelers. You could swim with sharks and sting rays in the Galapagos, or scale the spectacular Andes Mountains. And if you're feeling particularly brave, why not hire a bike and stare down the appropriately named Death Road in Bolivia? If you survive it, then make sure you celebrate in South America's party capital, Rio de Janeiro.
South America's environment and people make an impact on everyone that visits, so don't be surprised if you want to give back. You could help save the Amazon rainforest with eco-warriors or teach local children to speak English. Whatever takes your fancy, there are several opportunities for altruism in South America.
Take the path less traveled and see everything Eastern Europe has to offer. The countries here aren't as popular as Italy or Greece, so they're a bit cheaper to visit, especially now continent's plagued with financial troubles! The lava fields of Kamchatcka in Russia are breathtaking, and Poland's biggest concentration camp, Auschwitz, is heartbreaking but compulsory viewing. And while Moldova is often overlooked, its nightclubs are some of the best in the region. You'll need something to do during the day though, so perhaps you could teach English to the country's underprivileged children!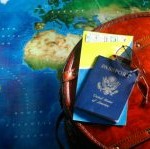 And don't disregard the Middle East. While there's admittedly plenty of civil unrest in the region, it's smooth sailing in Jordan. As many tourists give the region a wide berth, anyone who dares visit enjoys low prices, time away from the crowds, and the friendly hospitality that Jordanians are renowned for. Exploring the lost city of Petra, floating in the Dead Sea, and riding camels across the Wadi Rum will give you the sort of travel tales people at home actually want to hear!
If these options haven't given you the travel bug nothing will. So where do you want to spend your gap year?