A camping trip is a great way for the whole family to enjoy a frugal vacation, including its four-legged members! But before you bundle Fido into the car, it's worth reading our handy tips. This article will ensure your dog and his humans enjoy their time in the great outdoors.
It might seem like a no-brainer, but not every campground is dog-friendly. Increasingly campsites are becoming concerned about doggie noise and mess. Make sure you research your prospective site carefully, including any vaccination requirements and restrictions, before you set off.
Just because a campground allows dogs, it doesn't mean it'll be the best site for your pooch. Just like humans, dogs have individual needs that must be considered. If your furry pal is big and boisterous, he'll need space to run around. If he is exploring, you'll need grounds that are regularly sprayed for ticks and mosquitoes. Ensure your prospective campground is the right place before you pitch your tent.
Despite having family around, some dogs can become anxious when taken out of their homes. To combat these nerves, make sure you pack a bag containing some of his favorite things. A special toy and blanket for sleeping will go a long way towards soothing your furry pal.
While you're packing the car, don't forget plenty of plastic bags. Treat your campsite as you would your home and make sure you clean up after your pup. The rules don't change simply because you're in the wilderness!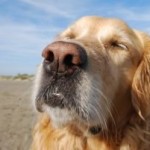 Pet etiquette extends beyond your behaviour and to your pooch. Unless your dog is well trained, he doesn't belong in a communal campground. No one wants to be around a barking, disobedient dog. Keeping your dog on his leash, even if it's not required by the park, can also minimize the risk of bad behavior.
And above all, have fun! Campgrounds are one of the few places that generally welcome dogs with open arms. Taking man's best friend along can make your camping vacation a truly memorable one.