As young travelers embrace the digital age, many feel guidebooks are becoming passé. Yet these handy travel companions still have a place in the suitcases of many globetrotters. After all, when you use an old-fashioned guidebook you need never worry about flat batteries! If you prefer to thumb through crisp pages than stare at a tablet full of the latest travel apps, this article detailing some of the best guidebooks for budget travelers is for you.
Lonely Planet is one of the most popular guidebook series on the planet, and with good reason. The series caters for youthful travelers seeking value for money. The ability to download .pdf versions of the guides is particularly useful, especially if you plan on visiting several locations. However the popularity of these books leads to increased tourism in the sites it profiles, so they're not recommended for anyone who hates crowds.
The Let's Go series started as a service for Harvard University students, and it still caters for students on their gap years and other tourists with tight budgets. The writers show you how to enjoy the best a destination has to offer without paying high prices.
Mark Ellingham created the Rough Guides series with the ethos that you should "make the most of your time on Earth." It was originally targeted at backpackers, but these guides aren't just about roughing it any more. Recent editions have included pricier experiences and travel options, so they're more appropriate for holidaymakers looking for a more balanced vacation.
Arthur Frommer creates travel guides for all budgets, but his Dollar-a-Day series is a must for frugal tourists. It's not for backpackers and students happy to subsist on ramen noodles, but rather travelers with taste who want to stretch their dollar further. These guides feature affordable accommodation, good value bistros and ethnic restaurants, free and almost free attractions, and a shopping section for bargain-hunters.
It's worth noting that guidebooks should never be your only travel resource. They're out of date shortly after they're published after all, with the best series updated only once a year. They also aim to please the largest possible audience, so they rarely highlight a destination's quirkier features. They're also a bulky billboard that screams to the locals that you're a tourist. So much for blending in!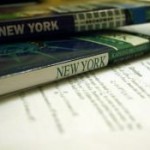 But guidebooks are a great starting point for learning about your destination's well established haunts, public transport systems, and more. If you want to save more, forget the bookstores and head to thrift shops or eBay. Most travelers offload their old guidebooks when they return home, so you can enjoy a real bargain!