Flights are often the most expensive element of any vacation, so it's not surprising that travelers want to get the best deals. So where do we find them? Simply searching the internet for cheap flights will only bring you the sites that have paid for top search engine privileges. Rather than just hitting up Google, make sure to bookmark these websites that consistently help tourists save.
Kayak.com is one of the most popular flight search engines, and it's not hard to see why. Some great deals are coupled with several other nifty features including trip management tools, price change alerts, and frequent flyer points trackers. No wonder it's received Webby Awards and been named one of the world's best websites by Time Magazine in recent years.
There's more to Hipmunk.com than its cute chipmunk graphics. The results of any flight search are presented in an easy to read graph. These pictures make it easy to see the airlines servicing your desired route, the prices they charge, and the number of stops they make. It's also got a hotel search engine, so this site could put you well on the way to organizing that dream vacation.
If you already know the major airline carriers aren't for you, then WhichBudget.com might be your site. This user-friendly website focuses on budget airlines operating in more than 200 countries around the world. You simply enter your dates and destinations, and WhichBudget.com will do the rest. With no fees or commissions charged on the flights you book, you can save even more than you'd think.
DoHop.com is ideal for travelers looking for save money by taking indirect flights. The site makes is easy to join cheaper flights rather than flying directly to a chosen destination. The time this method of traveling takes, especially those hours waiting in airports, mean it's not for everyone. However if flight-hopping appeals to you, DoHop.com will help you do it for less.
Some of the best flight deals online don't come from websites at all. Many airlines offer special details to their e-mail subscribers, Facebook friends and Twitter followers. Often these flights will only be available for a short amount of time, or to a small number of customers, so it's worth checking your inbox and social media accounts regularly when you've got the travel bug.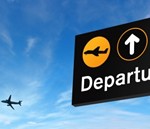 So don't wait until your travel plans are finalized to start searching the internet. It's good for much more than group deals on tourist attractions and restaurants and opinions on accommodation. Saving money on a flight is the perfect way to begin a frugal vacation!