Here at Frugal Monkey we focus on the cheapest holidays around, but few are as budget friendly as a staycation. Playing tourist in your home town is a great option for couples, but it doesn't have the novelty factor that kids love. Keep the whole family happy with a camping adventure right in your own backyard!
Camping vacations are never expensive, but they'll still cost more than a homegrown adventure. With an at home camping trip, you'll save on fuel and site fees. You can also access the food in your own fridge, and there are clean bathrooms just a stone's throw away. Those little perks make this style of vacation perfect for first-time campers! So set up the tent, pack up your gear, and prepare for a sleep out under your neighborhood's stars!
The key to really enjoying an at-home camping vacation is to make the experience as authentic as possible. Once you start sneaking inside to watch television or play some games on your console, the magic is lost. Just as you would on a camping vacation further afield, think of ways to amuse yourself outdoors. Your backyard could become an obstacle course, or your neighborhood a trail ready for exploring. A deck of cards can also provide endless games.
Resist the urge to call for pizza or use your kitchen and enjoy an old fashioned cookout outside instead. Fire up the grill, and don't forget the marshmallows and crackers for s'mores! Just make sure that you have council permission before lighting a campfire. And if you do, keep an eye on the flames and follow all safety precautions to ensure the fire doesn't get out of control.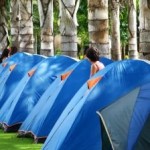 Once night falls, the fun shouldn't stop. Forget about children's bedtimes and enjoy some great camping traditions. You could sing songs around the campfire, tell ghost stories, play truth or dare, or create shadow puppets with your flashlight!
As the sun rises you might have a few cricks in your neck from a night spent on the grass. But this momentary discomfort is worth it for the memories you've made without leaving your backyard!