When traveling abroad there are the obvious expenses that add up. Your accommodation, eating out, and sightseeing will all drain your finances, but they're easy to budget for. Much more insidious are the sneaky fees that will sap your savings. In this article we help you outsmart the banks and avoid hefty ATM charges.
Many of us are unaware of the ways that we're slugged for using a foreign ATM. Firstly, you'll pay a few dollars for a standard ATM fee. Secondly, you'll pay a currency conversion fee of roughly two or three percent. And to add insult to injury, there's the disloyalty fee from your own bank, indignant that you haven't used one of their facilities. Never mind that a local ATM may be on the other side of the planet!
Believe it or not, many major banks have branches and ATMs abroad. It requires a bit of research, but if you do a bit of digging you may find facilities that eliminate those fees. While you're scouring search engines, investigate ATMs that don't charge the local fee. A search for "ATMs that don't charge fees" or "best ATM" with your destination should send you in the right direction. If you can't find what you're looking for, head to an online expat forum for advice.
If you're a frequent flier it's worth finding a credit card which waives international transaction fees. The United States has Capital One Venture Rewards and Chase Sapphire Preferred, Australia has the 28 Degrees credit card, and in the United Kingdom there's the Clarity card from Halifax. The testing process for these cards is often quite rigorous, but it's worth the effort to enjoy those perks.
On paper a money card, which sees travelers simply load their money on, is another way to avoid those fees. The rates are very tempting; they're typically eight percent better than airport exchanges, four percent better than traveler's checks, and five percent than the high street money exchange merchants. But don't be surprised if it's tricky to use. Many consumers have savaged these cards after they were unable to use them in ATMs and at restaurants and attractions, and had difficulty reloading them. It seems they're especially problematic for travelers who venture off the well-worn tourist path. They sound like a great idea, but it's worth researching the experiences of others who've traveled to your destination before committing.
If you're taking an extended getaway, it may be smartest to simply open a local bank account. While this can be a complicated process for a foreigner, running an internet search for "easy to open bank account" and your destination should point you in the right direction. The fee for transferring money from your local bank account to your new international bank account online will generally be much less than the ATM fees.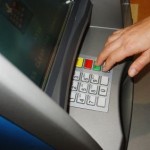 Alternatively you can do as your grandparents did and simply carry a bunch of cash. It's a little risky to carry a great wad of bills with you, but if you have a room safe this can be a smart, if slightly outdated idea. It does make budgeting easier, as you can physically see what you've got to spend, but it also limits your options if you start to run low on cash.
ATM fees are often one of those inevitable vacation annoyances, but with a little know how it's easy to avoid these charges and save money while traveling abroad.