Lopburi is a Thai city steeped in history, but today most travelers have just one thing on their minds: monkeys.
Every year many international tourists visit the area located three hours north of the country's capital, Bangkok, to meet the city's simian residents. It's estimated that some 2000 crab-eating macaque monkeys call Lopburi home. And why wouldn't they? The city has far less pollution and traffic than Thailand's capital, and the little creatures are treated very well by the locals and tourists. [caption id="attachment_4713" align="alignright" width="150" caption="A sleepy Macaque monkey in Lopburi, Thailand"]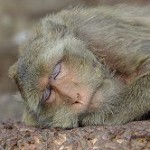 [/caption] If you don't mind braving the crowds, the best time to visit the monkeys is the Lopburi Monkey Festival, which is held on the last weekend in November each year. The locals prepare an exhaustive feast at the Wat Phra Prang Sam Yot temple for their monkey mates. You wouldn't guess that these monkeys favor crabs. They devour some 2000 kilograms of food, including eggs, fruit, and even soda. It seems quite generous of the locals to spoil the monkeys this way, but they believe their acts of altruism will bring them good luck. However you can spot the macaques monkeying about the city any time of year. In fact, your interaction with them is likely to be a bit more special if you pick a quieter time to visit. You'll also save the 30 baht it costs to attend the festival. Look for them in the area known as the Old Town, especially the religious sites of Wat Phra Prang Sam Yot and the Phra Kaan Shrine. You can buy some sunflower seeds for a few baht from Wat Phra Prang Sam Yot if you want to coax the monkeys closer. The monkeys are eager to meet tourists and always hungry, but don't be afraid. They are not aggressive, and even when they jump on you they won't cause any harm. If you'd prefer to observe them from a distance, don't tempt them with any treats. It's also advised not to wear any accessories when you're around the monkeys, as they can become fascinated by earrings, sunglasses, and baseball caps. If you forget this rule, don't be surprised if a curious monkey steals your clothes! Trains from Bangkok depart several times a day for Lopburi, making the three-hour journey via Ayutthaya. The station is a short walk from Wat Phra Prang Sam Yot, so if you only want to see Lopburi's monkeys a day trip is easily achieved. If you love wildlife, you'll likely see
Chang Mai's elephants
and
the tigers of Wat Pha Luang Ta Bua Yannasampanno monastery
. But no Thai animal safari would be complete without visiting the monkeys of Lopburi.