Arriving at the South Korean island of Jeju-do, tourists could be forgiven for thinking they've stepped onto another country entirely.
The palm trees and volcanic landscape remind visitors of being in Hawaii. The sandy beaches look as if they belong in a Mediterranean travel brochure, while the festivals and circus shows are as close to Disneyland as you'll find in these parts.
While most international travelers explore energetic Seoul, historic Gyeongju, and the seaside port of Busan, the Koreans themselves head to Jeju-do when they're looking for a little rest and relaxation.
The island delivers, with a dozen beaches and lush golfing greens. If you'd prefer a little more activity, make sure you hike around Jeju-do's famous volcanoes. Hallasan is the highest summit in all of South Korea, standing 1950 meters tall. Ilchulbong in the east is a stunning volcanic crater, while the island of Udo off the coast has incredible black lava cliffs. Scuba diving is also popular, with the area boasting colorful coral reefs and the warmest sea in Korea. The waters around Munseom Island off Seogwipo are considered one of Asia's best diving destinations.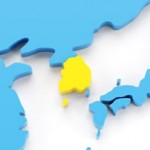 The action heats up in summer, with sporting contests, outdoor concerts, and movies held on the beaches throughout the warmer months.
Your stay in Jeju-do is set to be a luxurious one, with the island boasting world class resorts and motels including The Shilla Jeju and Lotte Hotel. If you'd prefer to save your cash consider a bunking down in a private home, known as a minbak. This is the Korean equivalent of a bed and breakfast, with its homely feel and welcoming hosts. Gomangnandol and Bluesung Minbak are popular choices amongst budget travelers. Alternatively you can camp on many local beaches, including Geumneung Beach and Jungmun Beach, for less than $20US.