The Cook Islands is a tropical slice of Oceania made up of 15 isles. Most tourists flock to the capital, Rarotonga, but if you have romance in mind the more peaceful Aitutaki is a much better choice.
Couples can enjoy a little alone time at luxurious accommodation options including the Aitutaki Lagoon Resort and Spa and the five-star Pacific Resort. Both resorts are positioned right on the beach, with fine white sand and fragrant frangipani trees helping to create an idyllic island atmosphere. They also offer the kind of opulent rooms that lovebirds will struggle to leave. However if you do feel like venturing out, the resorts offer plenty of fun activities. You could immerse yourself in local culture with hula dancing classes and ukulele lessons. You could even learn to make traditional seafood dishes, or simply sit back and let the resort staff do all the work. Fishing and diving expeditions and lagoon cruises are other ways of experiencing all the island has to offer without breaking a sweat. This is a destination which encourages rest and relaxation after all.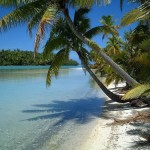 With lush private rooms, long white beaches lined with coconut palms, and tranquil surrounds, Aitutaki is a natural choice for honeymooners. If you're not hitched already, the big resorts can take care of that too. Both Aitutaki Lagoon Resort and Spa and the Pacific Resort offer wedding packages. The hotels take care of the license, celebrant, flowers, and all the trimmings, leaving you more time to relax and enjoy your special day.
Aitutaki is a 50-minute flight from Rarotonga. The international carrier Air New Zealand flies to Rarotonga via the Kiwi cities of Auckland and Christchurch. Air Rarotonga runs daily flights between the Cook Islands capital and its secluded sister from $390 return.