The South Pacific region in Oceania is famous for its picturesque location and laidback lifestyle, but you might not know that the area is also home to some of the world's most beautiful golf courses.
In this article we take a look at some of the island location's best. Not far from Fiji's international airport you'll find the
Denarau Golf and Racquet Club
. It's the sporting hub of the Denarau Island Resort, but you don't need to be a guest to enjoy its facilities. The course isn't very challenging, but it is beautiful with its palm trees and sea borders. The wet stuff makes for some interesting water shots, although most players should reach the pin in a stroke over par. It's probably not for the serious golfers, but casual fans of the sport will get a kick out of the sea-creature shaped bunkers and greens.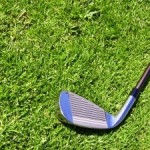 In Apia, a 40-minute drive from Samoa's international airport you'll find the Royal Samoa Country Club. It has a very regal name and surrounds to match; the 5445 meter course is considered one of the most beautiful in the South Pacific. In its years it's also attracted the right clientele. His Highness Malietoa Tanumafili was a regular here before he sadly passed away in 2007. Even he was challenged by the sixth hole which is totally blind.
Related:
Golf Courses in Hawaii
So make sure that you pack your clubs when you set off for the South Pacific!