If you're looking for a low cost alternative to New Zealand's popular Mt Hutt and Coronet Peak ski resorts, consider hitting one of the country's club ski fields.
The first club fields were established in the mountains west of Christchurch in 1929.
Today there are ten club skiing fields in New Zealand. The North Island has Manganui on Mount Taranaki and Tukino on Mount Ruapehu. Within a two-hour drive of Christchurch you'll find Mount Cheeseman, Mount Olympus, Broken River, Craigieburn, Fox Peak, Temple Basin, and Hanmer Springs Ski Area. Drive towards Nelson in the north and you'll discover the Rainbow Ski Area.
These smaller ski fields are owned and operated by club members, who pay an annual fee and volunteer on the slopes. But you don't have to be a member to join in on the fun. While the day rates aren't quite as low, non-members can still save by skiing at these non-commercial slopes.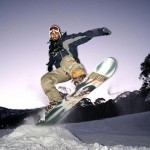 Of course, without the commercial backing these slopes take skiing back to basics. There are small lodges with bunk beds and communal dining rather than resorts, and primitive rope tows rather than high tech chair lifts. This no frills experience has a way of bringing skiers together though, as they all pitch in to wash dishes and socialize on the slopes.
While the social aspect is appealing, these slopes are also a lot quieter than the commercial fields. You won't need to worry about bumping into other skiers, and the runs are usually fresh.
Club memberships typically cost around $300 a year, including season passes and discounted accommodation, with all meals and ski and boarding lessons thrown in. If you're only in New Zealand for a short time consider a day pass for around $60, about $30 less than you'll pay at the commercial ski fields. Alternatively you could pick up a seven-day CHILL pass for $345. This offers access to 11 ski areas on the South Island including seven different club fields.