Tourists traveling to Australia in pursuit of sun, surf, and sand inevitably end up on the Gold Coast. Just the name of this Queensland district makes you think of the area's famous golden beaches. Of course, like any tourist trap a stay here can be expensive. However by heeding these simple tips you can make your money go further on the Gold Coast.
Most Gold Coast tourists stay in Surfer's Paradise. Its summery name is designed to lure you in, and empty your bank account. Coolangatta doesn't have such a glamorous moniker, but it is much quieter and cleaner. It's also right on the beach, and much closer to the airport.
Komune is the pick of Coolangatta's budget accommodation. It's classed as a hostel, but don't let that scare you. It's quite modern and it offers beach views and a pool, all for the bargain price of around $30 for a dorm bed.
Spending time at the beach is the ultimate frugal day out. You can visit any of the Gold Coast beaches for nothing and swim in the ocean, laze on the sand, and simply watch the world go by. These beaches don't have a worldwide reputation for nothing!
But you can't spend all your time by the shore. No stay in the Gold Coast is complete without a theme park visit, but with tickets costing around $75 a piece they can be pricey. If you're going to do it, I suggest doing it right and hiring a Q4U. Dreamworld has just introduced the gadget which allows you to book time on the park's most popular rides and get VIP treatment. You'll need to spend $10 to hire the device, but you'll avoid spending hours waiting in queues. When you're paying a hefty admission price, you want to experience as many rides as you can.
After a day's adventure it's time to continue the party on The Big Night Out. This backpackers excursion takes in some of the hottest nightclubs in Surfers Paradise. It costs just $30 to jump on board the party bus, which gives you free entry and a welcome drink at four different clubs. After that you'll enjoy $5.50 drinks for the rest of your night. It's a really cheap way to party in Australia!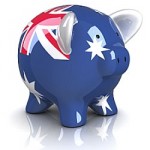 A big night out deserves a big breakfast the next day, and you can do it at Pancakes in Paradise. This café offers an all-you-can-eat stack and unlimited coffee refills for around $13. That should help to shake off the last of your hangover, so you can do it all over again!