Camping isn't just an affordable way to see Australia; it's also an ideal way to get back to nature and enjoy the rugged beauty of one of the most picturesque countries in the world. If your budget doesn't extend to glamping, here are some wonderful, and affordable, places to lay down your swag.
Victoria's Cowes Caravan Park boasts an enviable beachfront location. This sheltered cove won't suit surfers, but its gentle waters are ideal for families with small children. The park is only 10 minutes drive to Phillip Island, which is famous for its fairy penguin parade. This nightly event, where fairy penguins emerge from the waves and waddle to their nests, is also a big hit with kids.
There are more beach vistas at Tasmania's Swansea Holiday Park. This caravan park at Jubilee Beach, two hours from the capital city of Hobart, is in a beautiful park of the world; you can walk from your powered site to the ocean and see out to nearby Great Oyster Bay. Visitors are spoiled with a heated swimming pool, outdoor barbeque area, fully equipped kitchen, and playground for the kids.
And there's more sun and sand in South Australia at Victor Harbor Beachfront Caravan Park. As its name suggests, this family-friendly park is right on the beach. Children are going to spend plenty of time frolicking amongst the waves, but if you can drag them away there are plenty of other nearby attractions including the Cockle Steam Train and whale watching tours.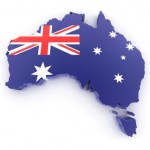 But not every special Australian campsite is on the beach. Gemtree Caravan Park in the Northern Territory is a great place for enjoying the Outback. With its wild Eastern MacDonnell ranges location, the park feels a million miles from civilization. If you love that sort of thing you can opt for an unpowered site, but there are also powered sites and air-conditioned cabins for travelers who enjoy their creature comforts. Given its name, it's not surprising that you can also try your hand at fossicking for gems here. Novices are best joining one of the garnet and zircon tours, but if you feel like going it alone you can try your luck at Garnet Gully.
Whether you have a frugal family vacation in mind, or a recession-friendly romantic getaway, Australia's camping grounds are an excellent base for your Aussie adventure.