Backpacking is a great way to see the world without spending a lot of cash. Many backpackers spend plenty of time researching the right hostel and tracking down the cheapest fares, but neglect the very thing that defines their travel style: the backpack. The right one will help you move from place to place quickly and comfortably. The wrong backpack though can feel like an anchor weighing down your vacation. In this article we'll help you find your perfect backpack.
If you're backpacking, trust us when we say that only a backpack will do. Traditional suitcases and duffle bags are awkward to carry over large distances. Wheeled luggage can be difficult to move through crowded thoroughfares and bumpy cobbled streets. However backpacks are easily transportable, even when they're packed to the brim. But which one will suit you?
Backpacks fall into two major categories: top-loading and front or panel-loading backpackers. The top-loaders have a drawstring opening at the top, which is covered by a flap for extra security. They were originally designed for hikers, but adopted by many backpackers who enjoyed the support they provide. As their main compartments use drawstrings, you can cram them full without worrying about breaking zips. These backpacks also tend to be lighter and more ergonomic than their front-loading peers. However the top-loading design isn't ideal for packing and unpacking, as you need to pull everything out to reach what's near the base.
Front-loading backpacks are similar to the ones we all wore in our school days. They make packing and unpacking a breeze, but their zips can cause problems. These closures can break, and rain can penetrate if you're caught in a downpour. They also aren't as supportive or contoured as top-loading backpacks, which can be troublesome if you're traveling any distance on foot.
No matter which style you prefer, it's important to choose the right size. So many beginner backpackers go large and struggle to carry all the items they've packed "just in case." A bag of around 50L should suit most travelers. It might cause you to travel lighter than usual, especially if you're planning a long vacation, but a backpack any bigger will become a burden. If you're unsure what to take, consult our handy backpacker's packing guide. Keeping your pack's size down will also ensure you don't get slammed with pesky airline fees!
Look for backpacks with plush, padded shoulder straps and hip belts. Your backpack should be lightweight, as it'll only become heavier once it's packed with your travel essentials. Any zips should be tough and waterproof if possible. An array of pockets is also useful for stashing the items you'll need to access quickly. Good ventilation is a bit of a luxury, but you might feel it's worth the extra expense if you're planning a summer getaway.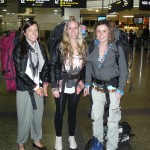 We also suggest consulting the staff at a specialty outdoors store to ensure your new backpack fits just right. These stores can often weight the backpack to help you make the most informed choice. As each pack is created a little differently, we suggest trying on several in your quest to find the perfect backpack.