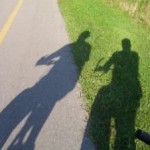 If you want to see the real Vietnam, forget the tour buses and get on your bike! While the motorized excursions zoom through the countryside on the way to major tourist centers, an eco-friendly cycling journey allows you to stop and smell the paddy fields.
As cycling is the locals main form of transportation, it's a great way to interact with the natives. While their grasp of English may be limited, particularly in the country areas, locals are friendly and always willing to chat with tourists. Trips through rural communities allow you to meet the rice farmers and their buffalo at work in the fields, while rides through the cities let you experience Vietnamese life at a faster pace.
Traffic in Vietnam can be daunting, so it's important to keep your wits about you. Remember that the Vietnamese always drive on the right side of the road, so if you stay there you won't get into trouble.
As cycling vacations require you to carry your luggage with you, it's clear that you'll need to travel light. Thankfully clothing and other basics are inexpensive in Vietnam, so you can easily buy what you need along the way. In many cases, it's actually cheaper to buy new than have your clothes laundered.
You should make room in your travel bag for basic bicycle tools. While local repairmen will happily fix your bike, the repairs will often be below Western standards. If you've got the means, it's often easier to do the job yourself.
You can happily explore Vietnam on your own, but guided tours are also available. These expeditions generally provide bikes which are of a higher standard than many available locally. They also provide a support vehicle, which can be a welcome relief when your legs get tired. Meals and an English-speaking guide are just a couple more perks. World Expeditions runs 15-day cycling tours, which travel from Hanoi in the north to Ho Chi Minh in the south, while Grasshopper Adventures takes a slightly different route. Its 13-day adventure starts at Hanoi and weaves down to Saigon.