The FIFA Soccer World Cup 2010 is drawing ever nearer and in the center of all the hustle and bustle, lies Free State Stadium, in Bloemfontein (City of Roses).
With a capacity for 48 000 fans, and hosting 5 first round and 1 second round match, the spacious sporting arena, might be the perfect choice if you want to enjoy the peaceful surroundings whilst you enjoy the World Cup. It is only a few minutes from the FIFA team hotels, and provides plenty of parking. The stadium upgrades include a second tier in the main grandstand, new floodlights, a new electronic score board, new turnstiles, and a state of the art sound system added.
The matches that are going to be hosted in this stadium are the following:
Monday 14, June 2010 - Japan vs Cameroon
Thursday 17, June 2010 - Greece vs Nigeria
Sunday 20, June 2010 - Slovakia vs Paraguay
Tuesday 22, June 2010 - France vs South Africa
Friday 25, June 2010 - Switzerland vs Honduras
To get to Bloemfontein, which is considered to be the academic, industrial and business orientated hub of South Africa, you will have to land at Bloemfontein airport, after changing over at Cape Town International, King Shaka International (Durban) or OR Tambo International (Johannesburg). You can take a taxi or hire a car to get to your accommodation location. There is plenty of accommodation in Bloemfontein including self catering options, guest houses, bed and breakfasts, hotel, and country lodges. Some of the best ones include, Monte Christo Country Lodge, Kleine Eden Guest House, Calypso Lodge, Urban Hotel, and the Southern Sun.
Free State Stadium is located right next door to Kingspark Zoological Gardens, as well as Springbok Park and just a few blocks away are Huguenot Theater, Du Plessis Theater, the National Museum, The Anglo Boer War Museum, Boyden Observatory, where the third largest optical telescope in the country is housed, and the Loch Logan Center just to name a few attractions. There are also lots of hiking trails and 4x4 trails once you get out of the city center and into the savannah grasslands. There are also a huge collection of nature reserves in and around Bloemfontein including Rustfontein Dam Nature Reserve, Soetdoring Nature Reserve, and Kalkfontein Dam Nature Reserve. If you want to enjoy some bird watching you can book at Reinheim Caravan Park, and Wen-Do-Lin Traveller's Rest, on the Modder River.
If you are passionate about more than just soccer, you should take some time to hit a round or two at Bloemfontein Golf Course or Schoeman Park Golf Course. [caption id="attachment_3545" align="alignright" width="275" caption="Be There - Free State Stadium"]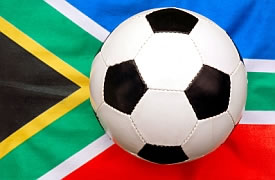 [/caption]After a day out, you should look at exploring the vibrant nightlife of Bloemfontein. For great dining establishments you should go to Catch 22 Seafood Restaurant, The Butchers Grill, Primi Piatti for some excellent pizza. For more pub style food and a sports bar vibe you should check out Bush Pub and King Edward Pub. For a bit of everything, and then some, plan a trip to the Moulin Rouge inspired Windmill Casino and Entertainment Centre.
If you want to enjoy the soccer matches, but your wife or girlfriend would rather not, then treat her to a spa treatment at one of the tranquil health resorts and spas like African Stone Day Spa location about 7.4 miles outside of Bloemfontein. Other things to do include going shopping at one of the many malls in the city, going ten pin bowling, enjoying a visit to the Bloemfontein Zoo, or browsing through one of the many art galleries.
There are so many opportunities in Bloemfontein when you attend the World Cup, so take time to plan your trip so that you can make the most of your time there.