Most of us spend time shopping around for cheap accommodation and cut-price airfares, but only the most frugal travelers think about hunting for the best car rental deals. There's a misconception that all hire car companies are created equally, but by following our tips you can save plenty on your vacation transport.
The first rule of saving money is to avoid accepting the first deal you see. It might be the cheapest, but you'll never know if you never look around. The internet makes this very easy, but you could save even more money by haggling in person, or over the phone. You'll be surprised what quoting a competitor's rate could save you!
As with so many aspects of travel, you must also look out for sneaky fees and extra charges. An initial internet search may turn up a great deal, until you get to the reservations page. There you can be slugged with vehicle license fees, arena fees, sales taxes, and other miscellaneous taxes and fees. These extra charges must be considered before you commit.
Rental car companies will also fleece you if they need to top up the gas on your car's return. The easiest way to avoid this charge is to ask for a vehicle with a full tank. That way you can simply fill it again before you return it to the hire company.
And don't even think about returning your car late. You might assume you have until the close of business, but many car rental companies are much more specific. If you're tardy, they could dock you an extra day's rental!
It's very convenient to take a rental car directly from the airport, but this ease will often cost you a hefty premium. Instead consider taking an airport shuttle bus or public transport to your hotel and organizing a car with the concierge on your arrival. Alternatively you could visit a car rental branch close by.
Make sure you have your wits about you at the rental counter, as staff will often do whatever they can to take your money. Insurance is one big money maker, however chances are you won't need any of this coverage. Often your personal auto insurance policy will cover rental cars, especially those in your native country. Credit card companies will also often offer complimentary collision coverage for rentals. General travel insurance may also do the trick. It's important to investigate whether you're already covered before taking a rental car company's insurance, as there's no sense paying for something you already have.
Also resist the temptation to upsize your vehicle. A compact will get you from Point A to Point B just as well as a larger vehicle, and it'll cost far less, both to hire and to keep full of fuel. Larger cars also tend to be more popular, so car rental companies generally have more of them on hand. If you book a compact and it's unavailable, you might just be lucky enough to receive a complimentary upgrade to a more deluxe model.
And as with any element of vacation travel, be on the lookout for some great deals on car hire. Most car rental companies have a special offers or hot deals page which lists their best deals. While these bargains are easy to find, others require a bit of lateral thinking. If you need the car for a few days, you may find it's cheaper to hire it for a week rather than your required time. If you need the car on Friday you could avoid a weekend rate if you acquire it on Thursday.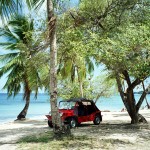 If you often hire vehicles, it may be worthwhile to become a member of your favorite rental company. Membership can cost you, but that initial joining fee can pay for itself with free rental coupons, fast airport checkouts, and special accommodation discounts.
Follow our advice and you could save some serious cash on your holiday car rental, allowing more money to spend on souvenirs and sightseeing!