The New Zealand ski fields are more famous than its surfing beaches, but as the weather warms in the Northern Hemisphere it's worth looking at the best places to hang ten.
You'll find the cream of the crop along Surf Highway 45. The highway runs for 105 kilometers on the North Island's west coast, from New Plymouth to Hawera. The coastal winds ensure there's always big surf somewhere along the highway. If you're a novice, or you don't like the cold, this probably isn't the place for you. If you're a dab hand on the board though, the black sand beaches of Oakura, Ahu Ahu, Stent Road, and Opunake are excellent. Most wouldn't win any prizes for looks, but that matters little when you're enjoying the atmosphere. You can bring your own board of course, but if you need to borrow one there are hire shops in New Plymouth and Oakura. The winding stretch of road offers some quirky attractions and excellent eats, so don't think you need to be a waxhead to enjoy it. New Plymouth has recently reinvented itself as a gourmet destination. Call in to
Paradise Valley Berry Farm
and
Q Gardens Providores
when you need to refuel, or try the organic lager at
White Cliffs Brewery
.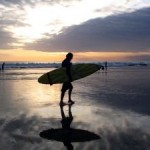 It's worth making a detour to see Mount Taranaki, an extinct volcano which looks a lot like Mount Fuji. Short treks around the summit's base can be tackled at any time of year, but the long trails can get boggy underfoot during winter. A soak in the Taranaki Mineral Pools is ideal for soothing tired muscles after a long day catching waves. Finally there's the Elvis Presley Museum at Hawera. It's a world away from Graceland, but Elvis enthusiast Kevin Wasley has assembled an impressive range of memorabilia and merchandise. It's a shame to come to the end of Surf Highway 45, but from there it's not too far to the culture of Wellington or Mount Ruapehu's ski slopes!